Home > Cricket > Column > Madhav Thambisetty


Inzy, Raj delight at Lord's

July 26, 2006



Some cream with your fruit sir?"

One could be forgiven for forsaking reality, albeit briefly on this muggy summer day in London. I was in the Coronation Garden at Lord's, washing down some exceptionally palatable sandwiches with a glass of Pimms, while watching WG Grace frozen in stone, executing an on drive.

The leafy ambience of the garden just outside what is arguably the most famous cricket pavilion in the world was a surreal setting for a press conference by Inzamam, but judging from the contented looks of the media persons around me, it was clear that there was little to complain about.....

The appearance of a bearded, portly and avuncular form, clad in green and yellow, announced Inzy's arrival upon the scene, calling a halt to the festivities. Fielding questions from the media is as laboured an exercise for the Pakistan skipper as sprinting after the ball to the third man boundary from his customary vantage point in the slips. Enquiries on the composition of the playing eleven for the first Test were met with, "We will decide after today's practice," although one suspected that this was motivated more by alarmingly increasing numbers of the walking wounded in the Pakistan camp than anything else.

Having attended to the minor inconvenience of the pre-match press conference, Inzy then strode off towards the Nursery Ground nets to start the last practice session before the first Test.

I had earlier in the day watched England go through their training routine and the contrast to the visitors could not have been more striking. Whereas the home side spent the first hour of their session on elaborate fielding drills and minutely coordinated warm-up exercises, the Pakistan camp cut to the chase and unpacked their kit to commence batting and bowling with gusto.

The injured Mohammed Asif cut a forlorn figure, taking no active part in the proceedings, while his fast bowling colleagues steamed in to bowl to Mohammed Yusuf and Salman Butt. Mohammed Sami's once bouncy, jet-black Brylcream locks have given way to a rather minimalistic crew cut, while Yusuf's previously clean-shaven countenance now sports a flowing and prolific Saeed Anwar-like beard that is hard to miss even behind his helmet.

I have always loved to watch him bat, perhaps even more so than Inzy and watching Yusuf drive the ball with seemingly effortless ease and perfect timing was a sight for sore eyes.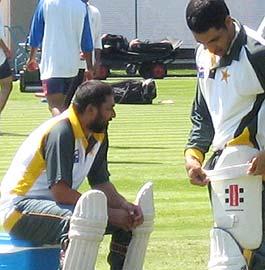 A substantial group of eager net bowlers, presumably drawn from local clubs ran in tirelessly. A sprightly lad of deceptively modest proportions steamed in and had Yusuf hopping on a few occasions. However the prospect of claiming bragging rights for the honour of decapitating one of Pakistan's premier batsmen caused him to dig one in too short, whereupon Inzy strode up to him, asked for the ball and summarily dismissed him with a gruff, "Enough, thank you."
"Well done," the gent beside me muttered approvingly. I had not noticed him until then. "Why risk injury before the game tomorrow?" he enquired aloud.
As I nodded in agreement, I recognised the gangling and familiar figure of Raj Singh Dungarpur.
"This is too much practice before a Test match in the morning," he grumbled. "They are tiring themselves out."
I wondered what he would have made of Strauss and company's energetic efforts earlier in the day. As I shook hands with Raj Singh, it dawned upon my part-time journalist mind that I had just been presented with an opportunity to pick the brains of India's leading and perhaps longest serving cricket administrator.
As we walk towards the famous Grace Gates of Lords, Raj Singh informs me rather matter-of-factly that he has not missed a Lord's Test since 1961. I am eager to know what it was like to manage the Indian team on their recent tour of Pakistan, and how it compared to earlier tours in the eighties.
"We could focus almost entirely on cricket this time around and less on cross-border politics," he says.
That in essence appears to be the key change in the way our countries now approach the game -- as a sporting venture rather than a proxy war. The all-consuming mortal fear of defeat being the ultimate national ignominy no longer afflicts either side, resulting in more adventurous, positive cricket.
"Banter has always been a largely enjoyable feature of subcontinental cricket," Raj Singh says.
While mostly well-meaning and in good humour, he recalls a particularly memorable incident when he was manager to Sunil Gavaskar's side in Pakistan.
Imran Khan was bowling to Chetan Chauhan and Sarfaraz Nawaz goaded him repeatedly to "break his head." Chauhan backed away, went up to Nawaz and offered him his bat, suggesting generously that it would be more suited to achieve the dramatic results desired by Nawaz.
We had now reached the Grace Gates. I see a teenager with camera in hand timidly asking the preoccupied steward whether he might be able to catch a glimpse of the Pakistan team as they enter their coach.
"Don't know young man. They usually just get in and drive away in a hurry," was the ominous verdict of the corpulent gate-keeper.
We stand a few feet away from the expectant youngster as I begin to say my good byes to Raj Singh. The visitors have just finished their training and I see Inzamam walking ponderously towards the coach. Just as he is easing his frame up the steps, he spies Raj Singh, waves, and hurriedly walks towards us, accompanied by a few of his team-mates. As they shake hands vigorously and greet Raj Singh, I cannot help but smile at the eager young man clicking away furiously at his camera.
Editor's note: Rediff believes that like its own editorial staffers, readers too have points of view on the many issues relating to cricket as it is played.
Therefore, Rediff provides in its editorial section space for readers to write in, with their views. The views expressed by the readers are carried as written, in order to preserve the original voice.
However, it needs mentioning that guest columns are opinion pieces, and reflect only the feelings of the individual concerned -- the fact that they are published on Rediff's cricket site does not amount to an endorsement by the editorial staff of the opinions expressed in these columns.
More Columns