Home > Cricket > Pakistan's tour of India 2007 > Column > Haresh Pandya


Will Anil Kumble make a good captain?

November 12, 2007



Better late than never! The saying is perfectly true in Anil Kumble's case. Not too many expected the ace leggie to be made the Test captain of Team India, especially considering the fact that he blew 37 candles on his last birthday cake on October 17.

But Dilip Vengsarkar and company had really no other choice after Sachin Tendulkar [Images] declined to lead the country again.

The selectors could have fallen back on Sourav Ganguly [Images], the most successful Test captain in the history of Indian cricket, or opted for Mahendra Singh Dhoni [Images]. Maybe, they didn't want to take any risk with Ganguly because of his unpredictable form with the bat. As far as Dhoni is concerned, maybe they're a bit confused, as many former players felt that it would be too early to hand him the Test captaincy.

But there is no reason why Kumble can't do a decent job as a Test team captain. Not only is he a highly experienced player but also very intelligent and articulate. The engineer from Bangalore, who engineered many of India's home and away wins in Tests and ODIs, is one of the most popular and respected players in the world. Like most Karnataka cricketers, he always steers himself clear of controversies.

It's the demand of the 21st century that a captain has to be aggressive on the field. Kumble may never appear to be one from his looks or behaviour on and off the field. But if you observe his approach to cricket and study minutely the way he bowls, you'll find plenty of aggression in the Kumble persona. It isn't without reason that many, including India's opponents, have described him as a silent assassin.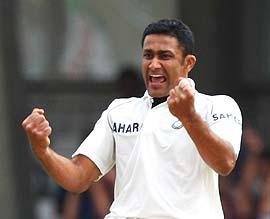 Having won so many matches for the country on his own, Kumble knows only too well what it takes to lead a team to the victory. Whether it was Mohammad Azharuddin, Tendulkar, Ganguly or Rahul Dravid [Images], all his captains tended to depend on him, not just for his match-winning bowling, but also for valuable advice time and again. Kumble, who has a sharp cricketing brain, is a master strategist.
It's Kumble who played a pivotal role in first convincing and then making the BCCI introduce the existing central contract system for the players. They owe a sense of gratitude to the gentle giant whom they actually prefer to call Jumbo. It's their turn to help Kumble in whatever they can, now that he is going to lead India in the heavyweight division of cricket.
Kumble is placed in an envious position. Besides his vast experience, he has as many as three former India captains in his team to rely on in an hour of crisis. And if you take into account Dhoni, even though he is India's captain for ODIs only, Kumble has actually four captains to assist him if required. What more can a new skipper ask for?
Of course, having so many former captains in the side sometimes puts certain unnecessary psychological pressure on the new leader. But that may not be the case with Kumble because he has earned the love and respect of all his teammates. He is in charge of a team which is a fine blend of youth and experience. He has bequeathed a winning unit from Dravid, who led India successfully in the last Test series in England [Images].
All Kumble has to do is inject a new dose of confidence in his colleagues. He knows fully well that he doesn't have enough time to settle down in the thorny throne that is India's captaincy. Nor is he going to be around for too long, given his age. As if that is not enough, his first two assignments are against Pakistan at home and Australia in Australia. So it's going to be a Test captaincy baptism of fire.
But he has it in him to handle the most difficult of situations with aplomb. It's unlikely, however, that Kumble will take calculated risks like Ganguly. It isn't his temperament. He may never gamble or go by his instincts. His approach to captaincy is likely to be more like the one adopted by Gavaskar and Dravid before him --  a little defensive with the emphasis being on 'safety first'. 
One wishes he doesn't under-bowl himself now that he is captain of the very team for which he bowled marathon spells during his illustrious international career. It's generally seen that when a bowler leads the side, he tends to under-bowl himself at times, fearing that if he bowls more, or over-bowls, he will be looked upon as selfish and some will even feel that he doesn't have trust in his bowlers.
There is also a school of thought which believes that bowlers don't make good captains. Although there are a few glaring exceptions, most successful cricket captains have been batsmen. But Kumble has it in him, again, to prove to be one of those few exceptions. As an individual, he was always a topper, a winner. He will surely love to be the same as India's captain, too.   
Editor's note: Rediff believes that like its own editorial staffers, readers too have points of view on the many issues relating to cricket as it is played.
Therefore, Rediff provides in its editorial section space for readers to write in, with their views. The views expressed by the readers are carried as written, in order to preserve the original voice.
However, it needs mentioning that guest columns are opinion pieces, and reflect only the feelings of the individual concerned -- the fact that they are published on Rediff's cricket site does not amount to an endorsement by the editorial staff of the opinions expressed in these columns.