Home > Business > Special


World's top biz guru on innovation

Preetee Brahmbhatt | January 18, 2006



It is noon at the Hilton Towers, Mumbai. Seated in the hotel's cavernous Lotus Room are a lot of men in suits. Middle and top level managers, CEOs, students of business management and a number of journalists. They wait, patiently, for the arrival of a man named Professor Vijay Govindarajan.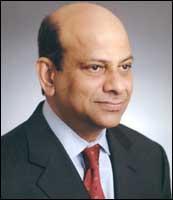 It is the launch of his latest book Ten Rules For Strategic Innovators - From Idea To Execution, and they know he'll say something they can take back and use.
The professor doesn't disappoint.
"Think of everything you do in your organisation and put it into three boxes: Managing the present (Box 1), selectively abandoning the past (Box 2) and creating the future (Box 3)," he says.
"Organisations spend a whole lot of time on Box 1 and assume it is strategy they are working on. Strategy, however, is really about Box 3. It is about allocating resources in 2006 to maintain leadership in 2020."
It is a powerful opening, and I begin to understand why Govindarajan is so highly sought after. Within half an hour, he successfully runs through the key ideas presented in his book, throws in a few case studies that are terribly interesting, and comes up with little nuggets of wisdom that make sense even to those who aren't currently at the helm of a conglomerate. Namely, people like me.
"Think of India and China," says Govindarajan. "The two countries currently share a GDP of $2 trillion. The world GDP, today, is $40 trillion. At the same time, India and China have 30 per cent of the world's population! In 25 years, both countries will grow more aggressively. They have already shown a growth rate of about 6-10 per cent annually in the past five years. So, in 25 years, their GDP will touch $40 trillion. The business opportunities that will arise from that situation are enormous."
He pauses for a second. "But they will not be open to existing business models."
He goes on to use Ford Motor Company as a case study. Apparently, when Ford decided to enter the Indian market, they realised they would have to come in with a low-end car. They picked one of their models that then cost $20,000 in the United States and asked their design team to shave off costs. The team promptly curtailed the power windows feature, relegating it only to the front windows.
Now, a $20,000 automobile was still a lot of money, which meant the company actually managed to reach just the top 1 per cent of India's population. This upper segment comprised people with chauffeurs. So, in effect, the power windows were of use only to the chauffeurs!
It is an interesting example of the difference between understanding an idea and executing it to perfection.
At this point, Govindarajan mentions the proposed 100,000 car that Tata Motors is currently working on. Which is good, because one of the people sharing the panel at the launch is Ravi Kant, managing director, Tata Motors.
Govindarajan says that by shaving costs, there is always a risk of 'dumbing down the automobile.' Which is not what Indians want. "What they want is world-class automobiles, which means Boxes 2 and 3 will need to be worked on."
At the same time, he adds that the idea is an innovative one, and therefore important for future growth.
"Innovation presents a huge opportunity for Indian corporates to become global giants. They must first address the Indian consumer with innovative products and services, which will give them a huge competitive edge globally," he adds.
Around me, no one stirs. They are all ears. Which makes sense because, when Govindarajan speaks, there is a world of authority to back what he's saying.
Often referred to simply as 'VG,' he is the Earl C Daum 1924 Professor of International Business at the Tuck School and founding director of Tuck's Centre for Global Leadership. He is in the Top 50 Thinkers ranked by The Times, London; in the Top Five most respected executive coaches on strategy, rated by Forbes; and Outstanding Faculty named by BusinessWeek in its Guide to Best B-Schools.
He has also been named among the Top 50 management gurus in the world.
Before Tuck, he was on the faculties of The Ohio State University and Indian Institute of Management (Ahmedabad). He works with CEOs and top management teams in Global Fortune 500 firms to discuss and challenge their thoughts about strategy, and boasts a client-list that includes Boeing, British Telecom, Hewlett-Packard, IBM, J P Morgan Chase, Price Waterhouse Coopers and Sony.
On the academic front, he received his MBA with distinction, as well as his doctorate, from the Harvard Business School.
He also got his Chartered Accountancy degree in India and was awarded the President's Gold Medal for obtaining the first rank nationwide.
In short, it is a commendable CV.
"Take the Encyclopaedia Britannica," he continues. "Until the 90s, it had three core competencies in addition to a tremendous brand name. Then, in 1990, Microsoft entered the encyclopaedia space with Encarta on CD-ROM. The Britannica refused to share its content, prompting Microsoft to opt for an inferior source. It went ahead and began selling its CDs for $50 each."
"The Britannica series, on the other hand, cost $3,000. In retaliation, the Britannica commissioned a CD-ROM of its own. It began offering this CD free to customers, provided they bought the hardcover series for $3,000. Those who didn't buy the series could purchase the CD for $1,500. The company filed for bankruptcy a few years later. They had understood the idea and the technology, but failed when it came to execution."
He rounds off by mentioning Dr Raj Reddy, Professor of Computer Science and Robotics at Carnegie Mellon University, who intends to create something called PCtvt -- an 'Information Appliance' for rural areas that illiterate people can use.
"Imagine its future," says Govindarajan. "That appliance may change and make redundant everything from the electronics industry to America's cable industry." It is a sobering thought. And the emphasis, again, is on innovation.
The afternoon comes to a close. Professor Govindarajan's book is launched by M Damodaran, chairman, Securities and Exchange Board of India, who says that India needs to be more respectful towards its innovators. "There is a close link between innovation and execution. India, as a nation, needs to be more respectful of innovators and recognise them more," he addsd.
There is a short question-and-answer session at which VG mentions eBay and its monthly 'Ideation Day,' where only people below 30 are allowed to speak.
Talk over. Book launched. The men in suits surround professor Govindarajan. Outside, signed copies of Ten Rules For Strategic Innovators - From Idea To Execution are available at a 10 per cent discount. The book has already topped the CEO Read list and has a sales rank of Number 2 at Amazon.
It has also been rated by The Times, London as 'one of the big business books of 2006.'
Something tells me it will charm businessmen in India as well.
VG Speak
Forgetting, borrowing and learning are monumental tasks. That is why it is crucial for a company to leverage the power of organisational design.
If a new company cannot leave behind the core company's formula for success, it will not find its own.
Dare to make complex judgments.
Though accountability to plans is an effective practice in mature businesses, it can be crippling in new high-potential businesses.
New companies should reconsider how major business functions such as marketing and product development interact. Established patterns of interaction within the core company are usually incompatible with the new business model. (From an article published in the Harvard Business Review)
More Specials


What do you think about the story?








Read what others have to say:





Number of User Comments: 2








Sub: strategic management

Excellent.I always admired Prof Govindarajan's teachings. While implimenting change management I have worked the strategies on similar lines and the experience has been really rewarding ...


Posted by S.Bhat









Sub: vg

excellent article, congrats!


Posted by amer






Disclaimer