Home > Movies > Bollywood News

Salman Khan: I am a man now

Syed Firdaus Ashraf | March 19, 2004 13:11 IST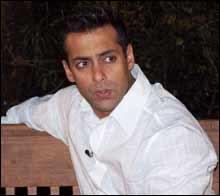 Dressed in a white shirt and blue jeans, Salman Khan was in a good mood on the sets of actor-turned-director Puneet Issar's Garv, in Mumbai's Mehboob Studios.
The actor will play a filmi cop after 13 years. The last time was for the late Anant Balani's Pathar Ke Phool, which was Raveena Tandon's debut film. Salman claims the only difference between playing a policeman then and now is, "I was a boy then. Now I am a man."

Garv also stars Shilpa Shetty and Mukesh Rishi. It is scheduled to release in May.

Puneet Issar, better known as Duryodhan from B R Chopra's television series Mahabharata, debuts as a director in Garv. Issar claims that Salman has been very mature in the film. Salman quips, "He will obviously say that. He won't say I have acted immaturely after the completion of film."

There were recent reports about Salman travelling by a Mumbai local train from Churchgate. When asked, the actor exclaims, "Nahin, bhai! I didn't travel by train. I don't know who published this report. If you want, I will travel by local train tomorrow so that you can publish the right news.

"I travel by either bicycle or an autorickshaw. Don't be surprised if you see me in a rickshaw!"

The actor jokingly explains, "I don't have too many films, so I cannot afford petrol for my car. Money problem! And even if I could afford it, I cannot drive because the police has taken away my license." It may be recalled that Salman was involved in a hit-and-run accident last year, when he allegedly killed one and injured four people.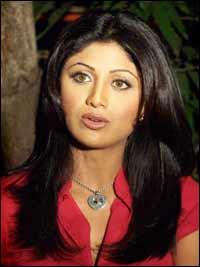 Though Salman plays a serious cop in Garv, he gets to sing the tapori number, Khaya piya kuch nahin, glass thoda baraana. Salman says, "Don't serious guys do tapori numbers? I have seen managing directors of big firms attending mujrahs. Why can't serious cops do tapori numbers in real life?"

The actor claims he is happy with the film; it has turned out to be a good one. "This is not a preaching kind of film but still manages to give a message," he says. "My character Inspector Arjun Ranawat is great. People will fall in love with him and his ideology."
Just then, a Pakistani delegation marches into Mehboob Studios to meet Salman. After exchanging pleasantries, a Pakistani lady thrusts her cell phone to a bemused Salman's hand and pleads with him to talk to her daughter in Lahore.

After recovering from the initial embarrassment, the actor says, "How are you, beta? How are you doing? This is Salman uncle here. I hope you are concentrating on your studies. Be a good girl. Tata, bye!"

Photographs: Jewella C Miranda
Click here for
More Features


What do you think about the story?








Read what others have to say:





Number of User Comments: 33








Sub: I like your movie

I like ur movie. I wiss when I come to india , i meet you.


Posted by NISHA PATEL









Sub: hi readers

i dont understand y u people r always talkin bad abt him...really dont understnd.if u cant talk good,then pls dont talk bad also.so funny it ...


Posted by ishaa









Sub: crazy for u

i iam in love with u salman literally i just love to watch ur films.u are very huge on the screen just cant move eyes ...


Posted by sam









Sub: HAPPY BIRTHDAY

Happy Birthday Salman hope u hv mindblowing b'day. Love U Miss U wnat to meet u


Posted by veena









Sub: Hey Salmaan

Dear Salmaan , Donno if u will ever come to read this message but still I am writing cos This gives me atleast a platform ...


Posted by soniya






Disclaimer