Home > Movies > Box Office

No good news for Hindi films abroad

Arthur J Pais | December 15, 2005 16:16 IST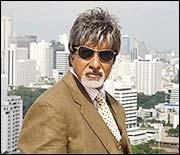 With the mighty Amitabh Bachchan falling flat with Ek Ajnabee and wannabe-star Uday Chopra suffering a scorching humiliation with Neal N Nikki, exhibitors on both sides of the Atlantic are hoping that Abhishek Bachchan can bring some box-office cheer with Bluffmaster.
Even Akshay Kumar, who has had a string of hits abroad in recent months, could not rescue Deewane Huye Paagal from being an also-ran film, though the action comedy fared far better than the likes of Ek Ajnabee. With a $400,000 gross in North America and a slightly bigger take in the UK, the film makes one wonder if it would have done worse business had it not starred Akshay.
| | |
| --- | --- |
| | More on rediff.com! |
| | |
Whether it was a crime drama set abroad (Ek Ajnabee) or in Bihar (Apaharan), or a comedy like Home Delivery, the box-office remained firmly frozen in the past three weeks. Given the high publicity and poor grosses, Ek Ajnabee was certainly the DOA (dead on arrival) film of the week. Ajay Devgan hardly has any following in America or England. And though his Apaharan was well promoted, it ended its run with less than $80,000 in both lucrative territories.

While Hollywood is enjoying a box-office boom with King Kong, The Chronicles Of Narnia and Harry Potter And The Goblet Of Fire, the desi scene is gloomy. And distributors and exhibitors say they can only blame the unexciting crop of films.

Two years ago, director Apoorva Lakhia's Mumbai Se Aaya Mera Dost starring Abhishek was a box-office downer. This time he has a flop featuring the father, thanks to his cameo in Ek Ajnabee.

Ironically, the only hit Hindi film in the past four weeks hasn't even been released in the UK or America. For Deepa Mehta's critically acclaimed Water is running only in Canada, where it has grossed US$1.5 million. Though it may find it difficult to reach the $2 million benchmark there, its box-office potential went up last week when it was declared among the 10 best Canadian films of 2005.

The selection, made through the Toronto International Film Festival, involved Canadian writers, critics and filmmakers. The controversial film set in India in the late 1930s and dealing with the fight of widows to remarry and live a fruitful life, will open in America through Fox Searchlight early next year.

Meanwhile, the romantic comedy Neal N Nikki shot extensively in and around Vancouver didn't even provoke interest among desis in Canada. It made just about $75,000 in its first week in North America and about $100,000 in the United Kingdom. Uday Chopra surely has some fans in India where Dhoom, in which he shared screen time with Abhishek and John Abraham, was a hit. But even that film was a non-starter in North America and the UK.

The senior Bachchan could not save Ek Ajnabee from opening at number 28 in the USA with a paltry $120,000. The distributor apparently did not have the confidence to release the movie in a significant number of theatres. It opened in 39 theatres in North America, while even the Uday Chopra film opened on 44 screens.