Home > Movies > Interviews

The Rediff Interview / Sanjay Leela Bhasanli

Black selected among Time's top 10 movies

December 29, 2005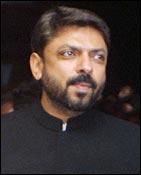 Sanjay Leela Bhansali's Black has been selected by Time magazine's influential critic Richard Corliss as one of the year's 10 best films of 2005, along with other films like Werner Herzog's German film, The White Diamond & Grizzly Man, Ingmar Bergman's Saraband, Fernando Meirelles' The Constant Gardener and Rob Marshall's Memoirs Of A Geisha.
Citing his reasons for this singular honour, Corliss writes, 'This is an unusual film for India: no songs, a running time under two hours, and most of the dialogues in English, yet it became a box office hit. It could also be a test for Western audiences unused to the fever pitch of Indian melodrama; they may need a warning label. Caution: Extreme Sentiment (May be Contagious).
'Everyone else can dive right into the bathos and savour the brave, passionate performances of Amitabh Bachchan, who harnesses gravity and humour to his magisterial machismo in what may be his greatest role and the two Michells (played by child actor Ayesha Kapoor and Rani Mukerji), who revere and adore their teacher as the one man who matters.'
| | |
| --- | --- |
| | More on rediff.com! |
| | |
Exultant, yet cautious, Bhansali speaks to Subhash  K Jha.
Sanjay, how does it feel?
Main kya kahoon? Richard Corliss had been extremely kind to my Devdas. Now, he has this verdict for Black. I feel reassured. It feels as though my hard work has paid off. If a distinguished critic from another part of the world thinks Black is one of the ten best films of the year, then there must be something to it. It's a great victory for Indian cinema, and all my cast and crew.
Black was completely off the Bollywood genre. When you do something different and it connects so widely and hugely, you're bound to feel reassured. I didn't make the film for any market, or to impress any section of viewers. I just did what came from the heart. It got a standing ovation all over the world. And now it gets ovation from Corliss. Even Sony Pictures for whom I'm making my next film felt Black was a very moving experience.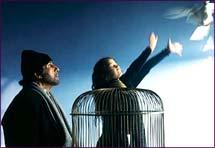 Some quarters in Bollywood have been going on about Black being derived from Arthur Penn's Miracle Worker?
Criticism is a healthy impetus for growth. Everybody doesn't have to like my film. If Jaya Bachchan hadn't constructively criticised Devdas, maybe I'd have never made Black. She spurred me  to attempt something different. If some people haven't liked Black, it's fine.
But it's not The Miracle Worker. It's the life of Helen Keller. Her life has a timeless quality. It can be expressed in any form -- a play, a television series, a film from India or Hollywood. If a director interprets Keller's life in his own way, it doesn't mean he's copying another film on the subject. If a director make a film on Gandhi, it doesn't mean he's stealing incidents from Richard Attenborough's film.
Keller's life is exemplary to all of us. I've personally learnt so much from her. I learnt the value of a teacher in any student's life. Black is my interpretation of  the age-old teacher-student relationship. And the language was sign language, not Hindi and English. Black is about feelings.
Corliss had also singled out Devdas…
It makes me happy, proud and fulfilled. The more the people respond to my cinema the more alive I  feel.
To be in Corliss' list along with world-masters like Werner Herzog and Ingmar Bergman makes me feel comforted. The fact  that a story about a deaf-and-blind protagonist can be formated in the popular genre was to me, the biggest challenge. Everyone -- whether Amitabh Bachchan in Deewaar or Rani Mukerji in Black -- is a hero deep down. Every person is capable of extraordinary achievements. For this film to get such wide-spread acceptance is a victory for all physically and mentally challenged people of the world. It isn't just socio-political issues that make a film important. It's the ability to talk to the most neglected sections of our society that makes a film special.
Where do you think Black goes from here?
Where can it go? I only know how to make a film. I don't know how to market it. Once I make a film, I let it go wherever destiny will take it.
Corliss has called Black the ultimate Bollywood love story.
Strangely, it's apt. Love has many forms. Black is about the love between a girl and her teacher. They teach each other the dignity of living. To call Black a love story is a true compliment.