Home > Movies > Theatre

Bombay Dreams' record finish!

Arthur J Pais in New York | January 04, 2005 19:13 IST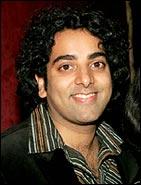 As Manu Narayan, Tamyra Gray, Sriram Ganesan and Anjali Bhimani joined 34 of their peers in Bombay Dreams to take the final Broadway bow on New Year's Day, at least one actor was taking home more than memories and an impressive resume.
Aalok Mehta, part of the ensemble cast, is now engaged to Anisha Nagarajan who played Priya, the idealistic movie director, in the musical for about six months. American Idol finalist Gray replaced her in November.
Anisha and Aalok met for the first time during the rehearsals and hardly had any scenes together. Evidently, they shared great chemistry backstage.
"Everyone connected with the show has seen his or her life enriched, I am sure," Geetha Nagarajan said, adding that her daughter Anisha had gone from "one big thing to another" with her engagement. Both Aalok and Anisha are trained musicians, and he also played the lead in independent film American Chai released over three years ago. It was produced and directed by his brother.
| | |
| --- | --- |
| | More on rediff.com! |
| | |
Seeing the prolonged cheers, standing ovation and packed audiences in the 1,761-seat Broadway Theatre, anyone would have found it difficult to guess the musical Bombay Dreams had been bleeding for more than eight weeks. Yet, as the show approached its final performance on January 1, the box-office picked up sharply during the last two weeks.

The final week produced the highest gross for the show since it opened in April. Attendance-wise as well, it was a record!

In its final week, Bombay Dreams grossed about $912,091 benefiting also from the additional holiday performance. It drew about 14,500 fans, a far bigger number than the ones at hit shows such as Hairspray (13,000) and Wonderful Town (7,500) starring Brooke Shields. The high-profile Fiddler On The Roof was also overtaken by Bombay Dreams, by 200 viewers.

Many veterans in the theatre business have pointed out that even as the show was playing to an half empty theatre, it was drawing about 9,000 people a week, and statistically was more popular than many certified hits such as Avenue Q.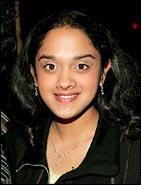 Most among the cast of Bombay Dreams are hoping to join the road tour that could start this summer, provided the producers, who have lost about half of their $14 million investment in the Broadway production, are able to raise fresh investment and get good backing from regional promoters. Just about 20 percent of Broadway shows recoup the investment. Some remain permanent losers but some like Thoroughly Modern Millie become profitable after playing across the country for a year. Many shows on the road have far less artists and less impressive sets than the Broadway production, so costs are lower. It is likely the road production of Bombay Dreams too will go on a diet.
The big question for Bombay Dreams now is: will middle America and the Bible belt embrace a show with two Hindi songs, an eunuch, a Ganapati procession and a wet sari teaser?