Home > Movies > Television

Now, competition for KBC?

Subhash K Jha | October 19, 2005 14:43 IST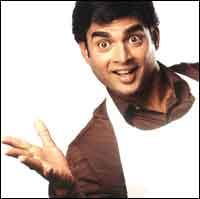 After trying his hand at Bollywood, Madhavan will now host a television show on Sony. Deal Ya No Deal will be a cross between Deal Or No Deal and Who Wants To Become A Millionaire. It will start in November. The prize money is likely to be to the tune of Rs 10 million.


Madhavan was recently in Mumbai to shoot the promos. "Yes, Sony approached me. We have just worked out the details. I have to shoot six days a month. But I've been asked not to speak too much about it, he said.
"All I can say is, it has no relevance or connection to Kaun Banega Crorepati [the Indianised version of Who Wants To Become A Millionaire]. It's a different format. And we will not pitch it against KBC. Our show will be telecast on weekdays. Who on earth would dare to take on Mr [Amitabh] Bachchan?"
Shahid Amir will design Madhavan's wardrobe. He will be given a boyish, affable look.
Sony's chief executive officer Tarun Katyal confirms, "Deal Ya No Deal is is our version of Deal Or No Deal, the number one gameshow in the world. I visited Spain and France to check out the show there. It's a phenomenal event. 
"Why Madhavan? Because we needed someone boyish, intelligent and able to connect instantly with the audience. The world over, the hosts have been young genial and energetic. Madhavan fitted the bill. One or two other names, including Saif Ali Khan, were initially thrown around. But once the project finalised, it was Maddy all the way. And when he shot the promo with us, we knew we had made the right choice."
Tarun dismisses all comparisons with KBC. "Deal Ya No Deal is not like any other game show seen in any part of the world. And believe me, it wasn't expensive to buy it from its international original copy holders. We, at Sony, are on the lookout for shows that would give us a profile distinct from our competitors. When we started Fame Gurukul, we were sneered at for attempting something so outlandish. Now, that's one of our highest rated shows."
Katyal says Sony hopes to consolidate its position further with the new game show. "It will add considerably to Madhavan's  fan following, that's for sure," he concludes.


What do you think about the story?








Read what others have to say:





Number of User Comments: 21








Sub: Deal Or No Deal

Hi.... I want to participate in this competition. But how ? Please do something.


Posted by Naveen Mehta









Sub: hiiiii

hi sir, i m bhavuk dhawan i applied but how ............... ...


Posted by bhavuk dhawan









Sub: This was needed.......

Well folks,I've participated in several quizzes at national level and state level and won many, but KBC never gives me a chance to participate in ...


Posted by Sudarshan Ruikar









Sub: Deal or no deal!

Hi, I think Maddy is the right choice. He is energetic and has a good command over English. All the best to you all at ...


Posted by Kokila Bosco









Sub: Participation

My 4 years son and Wife would like to participate in your Programme " Deal Ya No Deal". Please let me know how could they ...


Posted by arun






Disclaimer