Home > Movies > Bollywood News

Shreyas to play MF Husain

Radhika Rajamani | September 26, 2005 14:28 IST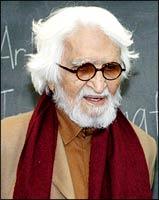 Acclaimed painter and filmmaker MF Husain does not rest on his laurels. Age is no deterrent to his zest and energy. He is always keen on doing something new. The latest from this celebrated artist's palette is a film based on himself, tentatively titled The Making Of A Painter, to be directed by his youngest son Owais.
Just after his 90th birthday, Husain announced that he had chosen Shreyas Talpade (Iqbal, in Nagesh Kukunoor's new film) to play the artist in his younger years.
"I have been wanting to make the film for the last 4-5 years and have been looking around for someone to play my role. When I saw Iqbal, I felt Shreyas was the right person to do so. I liked his body language, and certain nuances. He is talented and dedicated. He's going to practice gestures and how to draw. As it's just a week since I announced the film, I have to look for actors to play other characters," says Husain.
"My autobiography is almost like a film script. I have to just restructure it a bit. The subject is huge as so much has happened in my life. I have to ensure it focuses on certain aspects. The film will feature others' struggle beside mine and reflections of the 20th century in India will be integral as this is the period I lived in with so many people."
Husain adds, "The film will not be like a documentary, but like a feature film -- something like Lust For Life (the film on Van Gogh based on the book by Irving Stone). It is all about the love for life. It will be a story of a different kind, with lots of music. It will be entertaining and philosophical."
Husain claims that he will not direct the movie himself because he would not be 'objective,' as it is based on his own life. The film will go on the floors by the end of this year.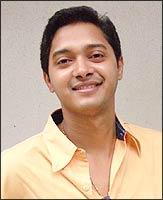 When asked about the film, Shreyas Talpade exclaims, "I was shocked and speechless for a few minutes! I got a role and prints of Husain Saab. What more can I want? It's an absolute honour and I could not have asked for more. I am a great admirer of his work and respect him for his energy. I am looking forward to the film. It was a dream to meet Husain Saab and I won't forget the day he hugged me."
The film spells a lot of hard work for Shreyas. "I am reading Husain Saab's autobiography at the moment. He has given me some DVDs. After going through all this, I will spend some time with Owais for finer details. I would love to spend enough time with Husain Saab. The role is challenging -- even more so than Iqbal. Iqbal was a fictional character, but this is a real one. I have to learn painting. It's difficult to get the same body language and nuances right."
As for Husain Saab, he feels this is the most exciting time. 'I lived the life, wrote about it and am now filming it,' he says.


What do you think about the story?








Read what others have to say:





Number of User Comments: 1








Sub: keep in touch.

Dear Shreyas, Your act in IQBAL was great.I think u should go for some horror film also.You are also a great actor.Please be my friend ...


Posted by siddhi






Disclaimer