Home > Movies > Bollywood News

Ash's Mistress bombs in the UK

Arthur J Pais | April 26, 2006 14:37 IST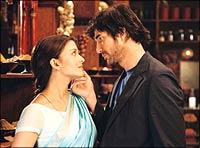 'Aishwarya Rai -- is there a wishier, washier, wimpier actor anywhere in the known universe?,' asked The Guardian's influential critic Peter Bradshaw, giving Mistress Of Spices a single star (out of a maximum five) in the reputed London daily newspaper.
The film, already nicknamed by many critics as 'Mistress Without Spices' has bombed unceremoniously in the United Kingdom.
Mistress: Aishwarya's best work?
It may end its run in just about three weeks. It opened with a paltry $150,000 on just about 30 screens. On the other hand, the Akshay Kumar film Humko Deewana Kar Gaye grossed about $300,000 in its second weekend across the country.
'Rai wafts and simpers through yet another film, this one a sub-magic-realist romance: she plays the mystical proprietress of a spice store in San Francisco, sorting out customers' emotional problems with her sensuous wares,' Bradshaw continued. 'Ooooooh! Sort of like Juliette Binoche in Chocolat, only more annoying.'
Slapped with some of the most savage reviews in recent months, Mistress Of Spices, directed by first-timer Paul Mayeda Berges who co-wrote it with his wife Gurinder Chadha, has become one of the major disappointments of the season.
Even the mild online reviewer for the BBC could not give the film, which cost about $3 million, a good review. But The Daily Telegraph called the film a sweet old fashioned romance.
Ash is the mistress of spices!
'Despite its colourful eastern palette and amiable performances from Bollywood starlet Aishwarya Rai and American hunk Dylan McDermott,' wrote the BBC Online's Jaspeet Pandohar, 'the drama is as bland as a cucumber sandwich.'
In 2004, Ash's collaboration with Chadha and her husband, Bride & Prejudice, directed by the former, had opened to No 1 in the UK on about 370 screens, making over $3 million. Though it received mixed reviews, it became an audience favourite earning about $11 million in the final reckoning. But unlike Bride, the new Rai film played mostly in the desi film circuit.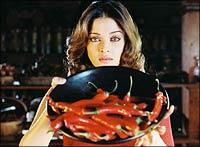 The new film, based on a bestseller of the same name by Chitra Banerjee Divakaruni, opens in India and the US on Friday. It is getting a low key release, and Rai hasn't done any publicity for it.
A sneak peek into Mistress Of Spices
Revolving around a woman who could lose her magical healing powers if she fell in love, the film premiered in September at the Toronto International Film Festival where most major critics ignored it. In fact, the only publicity it received was from the liberal display of startlet and Salman Rushdie spouse Padma Lakshmi's bosom at the pre-release party. Photographs of her cleavage were carried by many magazines and newspapers, mentioning that she has a brief role in the film.


What do you think about the story?








Read what others have to say:





Number of User Comments: 20








Sub: Kudos to Peter Bradshaw

His review pretty much echoes my thoughts on Aishwarya'a acting capabilities...whether it was Aur pyaar ho gaya or devdas...simpering and eyelash batting does not a ...


Posted by Aparna









Sub: aish is a flop

it will take aish to act. she doesnt know how to act. she is nothing except her beauty. to act in a western world she ...


Posted by dr atul nigam









Sub: Aishwarya is a good actoress

It happens to everybody .There is no need to make a big issue out of it . Aishwarya is a good actoress.She has acted wonderfully ...


Posted by Roshan Lopes









Sub: Ash...No fit for foreign films

Ash is not an appropriate fit for the foriegn films and foriegn film viewers. All she has is bollywood masala and thats why, admired by ...


Posted by Ganesh SL









Sub: Chatpati

Angrez kya jaane masalo ka swad.


Posted by AA






Disclaimer