Home > Movies > Reviews > Readers' review

We never understand KANK's characters

August 29, 2006 21:26 IST

Rediff.com invited readers to send in their reviews of Karan Johar's Kabhi Alvida Naa Kehna, and be part of the Rediff Movie Reviewers group.

The response was very good, and selecting the top ten reviews was an interesting task.

Last Monday, we featured Amodini Sharma's review. On Tuesday, we featured Abhishek Asthana's review. On Wednesday, we featured Sumier Phalake's review. On Thursday, we featured Kiran Kamath's review. On Friday, we featured Arun Ganesh's review. Yesterday, we featured Tasneem Karbani's review.

Today, we feature a review by Madhusudan Hegde.

After writing a series of successful legal thrillers, John Grisham felt compelled to write a 'different' novel, The Painted House. Similarly, KANK is Karan Johar's attempt to break the mould. Unfortunately, broken with the mould, are also viewers' expectations of a good movie.

This is a bold movie that delves into the complex relationships and lives of two married couples, Dev (Shah Rukh) and Rhea (Preity Zinta); Rishi (Abhishek Bachchan) and Maya (Rani Mukerji). Dev is a bitter man, having failed as a football coach, while his wife Rhea is a successful career woman working in a fashion magazine. Rishi runs a PR firm organising events and his wife Maya is a teacher who simply cannot identify with Rishi's lifestyle of parties and fun. Both marriages are falling apart with Dev unable to accept his wife's success and Maya not reciprocating Rishi's deep love for her. Predictably the couples meet and Dev and Maya find themselves in an affair.

Well, seems like an interesting theme for a Silsila like drama, doesn't it? Yes, but what could have been a peek into human nature and insight into way people and relationships change remains just that -- 'could have been'.

The problem with the movie in not in the execution, the performances or even the length of the movie (3.5 hours); the failure is its inability to get the viewer to empathise with the protagonists.

That is the simple reason that this house, though rather well painted, collapses. One can understand Rani's emptiness having married Abhishek, even though she never really loved him, but why does she fall for Shah Rukh? Is Shah Rukh's attraction to Rani simply a desire to be with someone who is not a super-achiever and therefore less challenging to his ego?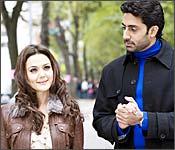 The director ostensibly tries to tell you that they start with the noble intention of trying to help each other rescue their marriages. Both Preity and Abhishek, portrayed as rational human beings, actually reciprocate these efforts to build the relationship back. Naturally, I was all set for the nice ending, but Shah Rukh and Rani spoilt it all rushing back into each other's arms! Once again, dear reader, this deepens our inability to understand these characters.
The SRK-Rani relationship deepens and they end up making love with their conscience gnawing at them, which in turn leads to an admission of infidelity to their respective partners. What happens next is the climax, which, though not a predictable ending, still leaves the viewer with more agony.
The film has its moments, though, due to some brilliant performances, dialogue and fabulous imagery. Shah Rukh is brilliant as a loser; you can see his bitterness in every little nuance. The dialogues are crisp and hard hitting and at the risk of being a spoiler, his rebuttal to Preity calling him a failure goes something like this: "Yes, I am failure, par jaanti ho is ghar mein mujhse bhi bada failure kya hai? Hamari shaadi, hamara rishta."
Rani makes the best of a rather unconvincing character and Preity, well, given the limited role, does a very good job of portraying a career woman. Big B, as Rishi's father, effortlessly plays a skirt-chasing widower and once again delivers an outstanding performance. Few actors have the stature to carry off playing a middle-aged playboy and a respected elder of the family. The real star, though, is Abhishek. He finely depicts a range of emotions; a cool party guy, a husband once loving, then enraged by his wife's infidelity, and a son saddened at the prospect of losing his father.
Karan Johar gives New York a new beauty of its own and in this movie goes beyond the city in Kal Ho Na Ha to the breathtaking suburbs and exotic homes. In terms of music, barring the title song, none are catchy and the primary purpose of the songs seems to be to remind the viewer that it's a Bollywood movie further reinforced by purposeless guest appearances by Kajol and John Abraham.
Only one emotion reigned supreme at the theatre when I saw this movie -- Alvida.
Madhusudan Hegde is based out of Detroit and works for an Indian IT major.
Click here for More Reviews


What do you think about the story?








Read what others have to say:





Number of User Comments: 4








Sub: KANK review

This is a good review... But we should have readers vote on these top 10 reviews to determine who is the best here!


Posted by Movie Buff









Sub: KANK

Had the movie enededwhen Rani and Abhishek meet after three years each expressing their feelings for one another it would have been a good ending


Posted by Venkatraman









Sub: awesome review

Awesome wud be an understandment to the review written by Mr. madhusudan hegde... I completely agree with him and this is exactly what i felt ...


Posted by sneha









Sub: views on kank

i think kank has a hidden reality within it n if people accept it kank is a superb film. n a for the negetive part ...


Posted by piyali






Disclaimer