Home > Movies > Interviews

The Rediff Interview / Vinit Tejnarayan Singh

Meet Sa Re Ga Ma's Vinit

Priyanka Jain | February 24, 2006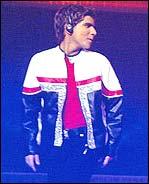 Today is D-day. The final round of the Sa Re Ga Ma Pa Challenge, which will be shown live on Zee TV. At stake are two dreams, two careers and two hearts.
Even as you read this piece, Vinit and Debojit are worrying about their future. There is a prize to be won -- a contract to be awarded -- that could change their lives forever.
When the lads first came on air, they looked like any of us. Over a period of time though, they underwent a transformation. While Debojit came out more diplomatic and 'politically correct', Vinit has maintained his innocence. This, despite of a lot of controversies regarding the show.
Jarring notes in the Sa Re Ga show
On the day of the finals, Vinit Tejnarayan Singh, 17, talks to Priyanka Jain about his family, singing and winning.
Are you afraid of Debojit's popularity? Is there pressure on you?
I am too young not to get affected by it. But I try and keep myself sane. I have learnt a lot -- about dealing with fans, anger, happiness, madness, critics, pressure, the votes, everything... I will walk out a stronger person. Debojit got 20 lakh out of 30 lakh votes from Assam. I got my votes from all over India.
How well do you know Debojit?
I have heard him saying that he has worked on jingles and been around in the industry for the last two years. For him, his career has already begun; this would be another feather in his cap. But I am a newcomer, with no knowledge about the industry and its ways. I want to make it big here. I have come with a dream, I want to achieve something.
War of the music composers, literally
So many stars come on the show -- does it hamper your concentration?
On the contrary, I find it encouraging. I have never seen so many of them in person. To be praised by actors, actresses and singers is a huge compliment. This show will always be close to my heart.
There has been so much drama, so many controversies on the sets. Did that affect you?
I am a normal person, with normal emotions. When big people say something, one feels hurt. But, over a period of time, I have learnt it is part of the game. One has to live with it. I was different when I came. I have grown as a person.
How have you been preparing for D-day?
Being in the hands of Himesh Reshammiya, one of the best talents in the country, I think I am well prepared.
What are your hobbies?
I take my guitar to the terrace or garden and play when I am alone. I love music. I think I must have been born humming. I used to enjoy playing cricket in the city's bylanes. Like kids my age, I am also interested in video games.


Tell us a little about your family.
I come from a middle class family. My father works with Everready batteries. I have three sisters, two of whom are married. One sister, who is a year older than I, is my guardian angel. We fight a lot, but when we get caught for something I have done, she always saves me!
You have a girlfriend at 17...
Is there an age for one to fall in love? She was my classmate. Our families know each other and they kind of accept it. Love has brought melody to my life.
You call Himesh Reshammiya Guruji...
In Lucknow, I was just another fan of his. I have sung his songs in the bathroom, while playing antakshari with friends, to my girlfriend... Little did I know that my idol would become my guru. Not many people are as lucky. The trademark cap, for which I have been called 'Topiwala Vinit', is my good luck charm -- a gift from my Guruji. I wear it on the sets all the time. He has offered to make me sing in his forthcoming movies. What else can one dream of?
Does it matter whether or not you win the competition?
Wouldn't it matter if you were in my place? I would be lying if I said it doesn't matter. No one enters a competition to be a part of it. Winning does matter.
Is there something you would like to say to your fans?
Dream. If nothing else, you will become poets.


What do you think about the story?








Read what others have to say:





Number of User Comments: 44








Sub: u r simply GREAT!!!!!!!!!!!!!!

HI!!!!!!!!!!!!!!! U can really rock the world. u have such power in u!!!!!!!!!! may god bless u .........


Posted by Jayshree









Sub: hi!!!!!!!!!!! vinit u r the BEST

hi!!!!!!!!!!!!!!!! vinit u sung very very good. i have seen ur each & every episode & enjoyed so much. my whole family like u including ...


Posted by jayshree









Sub: Hi Vinit

Hi Vinit, this is Devangshi.i just love 2 listen 2 songs sung by u.it is awsome.i have all ur songs dat u sung in sa ...


Posted by Devangshi









Sub: i love you

Hi, How are you? Please send your photograph to me on my e-mail address. Thank you aayush


Posted by Aayush









Sub: luv u

i luv u vinit.u r so cute. i live very far away from u.my friends say iam annoying cause i always talk about u.but i ...


Posted by nazia






Disclaimer