Home > Movies > Interviews

The Rediff Interview / Priyadarshan

Priyadarshan to retire from commercial cinema?

George Joseph | January 04, 2006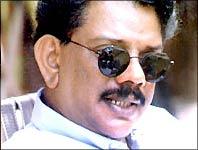 After 61 films in five languages, including 16 in Hindi, director Priyadarshan says he will retire from commercial cinema in another two years. "I want to do serious films irrespective of box office value," he says. The director was in New York on vacation with his actress wife Lizzy and children Kalyani (13) and Siddhartha (12). It seems as if he's begun his move, having already made a serious film, directed by Rajeev Kumar, that will be released in February. Priyan, as he is called, says he has all the facilities and networking to make serious films, especially with his own studio in Chennai. Excerpts from an interview:
Priyadarshan: I am a good actor
You say you want to move out of commercial films. Does it mean you are dissatisfied with your career so far?
It is not due to any dissatisfaction with my earlier films. After a quarter of a century in the field, I want to move to another level, or to a higher level.
| | |
| --- | --- |
| | More on rediff.com! |
| | |
You recently spoke of crossing the seas. What are your plans?
Every director will dream of doing films in Hollywood. I want to show my talents there too. There are already a few offers from Canada, which I have not accepted. A discussion with Hollywood producer Ashok Amritraj has also been scheduled in Los Angeles.
Among your recent films, Garam Masala was a super hit while Kyon Ki was not. How do you look at this?
It was a mistake to release both on the same day. Kyon Ki was not a failure, but only an average success. It was not suited for a holiday season. People do not want to see a tragedy on such occasions, especially younger people, who fill up theatres. The trend the world over is comedy. People have enough tragedies in their lives.
As a South Indian, how do you feel about being a successful director in Bollywood?
I am proud of the fact that I am the first South Indian director who has been accepted by Bollywood wholeheartedly. It was Shatrughan Sinha who recommended me for the remake of a Malayalam film way back in 1987.
Most of your Hindi films are remakes of Malayalam films. How do you make films to conform to two cultures?
When I make Hindi films, I make it completely to conform to the local culture. I think this is the reason for my success in Hindi.
'No big Hindi film star wants to work with me'
How do producers approach you?
Artists often recommend me to the producers themselves. Salman Khan, for instance, wanted to work with me.
There is talk about the underworld connection to Bollywood. Have you ever experienced any problem?
I have heard of it, but haven't come across anything, possibly because I live in Chennai.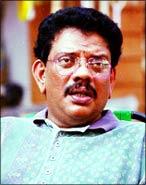 After years as a director, why are you not producing films on your own?
I may be the only director with this sort of experience who has not produced a film. I strongly believe that producing and directing will not go together. If you want to be producer, don't direct. The producer has to think of money and may have to compromise on many things. But the director is free of such compulsions.
Actors like Akshay Kumar have benefited from your films more than you have benefited from them. What is your comment?
I am happy that actors like Paresh Rawal, Akshay Kumar and John Abraham could move up in their careers through my films. Without success, nobody cares about you. Hera Pheri gave Rawal superstar status. John Abraham got a good break in Garam Masala. As for Akshay, his career graph went up with my films. But there was no favouritism.
What was your most successful film?
Before Garam Masala, it was Hera Pheri. It even overtook Sholay in the sale of DVDs.
How important is luck in the film industry?
It is a major factor. A great actor like Kevin Costner is not seen much nowadays, while John Travolta has returned to the scene after many years. It is the same with films too. Sometimes, bad films click at the box office.
What are your current projects?
The next film, Malamaal Weekly, is an original, not a Malayalam remake. It stars Ritesh Deshmukh, Om Puri and Paresh Rawal and is the story of a villager who sells lottery tickets and finds that one of his tickets has won the jackpot. The winning ticket, however, is with someone else. It is a low-budget film, but it could be a dark horse at the box office. A love story called Chupke Chupke, with Shahid Kapur and Kareena Kapoor, will also be released soon.
New actors aren't coming up these days. Only children of actors get all the breaks. Is this good?
This will not work in languages like Malayalam. In Kerala, people rejected the sons of politicians too.
When do you plan to go back to Malayalam movies?
Not soon. The food at home will always be there. I can go back any time.
What is your relationship with your stars like?
It is a professional relationship. Alhough friendly with artists, I keep a distance always. In Malayalam, I have a special relationship with Mohan Lal, though I have worked with all the stars there. In Hindi cinema, I have no Mohan Lal.
You did not allow your wife to act in films after marriage. How do you explain this?
I think that only a fulltime wife can look after her family and children. I was lucky to marry an actress. She knows my problems and situations. I get a lot of support from her. In addition, she looks after the studio and post-production facility in Chennai.
You have not won any awards...

I haven't because my films are commercial. But actors and others who have worked in them have got several awards. To be precise, 21 national awards, more than 30 state awards, etc. Kala Paani won seven. There is still time for awards (smiles).
If not a filmmaker, where would you be now?
I have a Masters in psychology and was planning to work as a clinical psychologist. At the time, I started writing scripts for movies. After writing four scripts, I began directing. I have not looked back since.


What do you think about the story?








Read what others have to say:





Number of User Comments: 5








Sub: Priyan, why not more Virasats and Muskurahats

I believe this will be a right move by Priyadarshan to return (I repeat, to return) to serious cinema. He has serious movies like Gardish, ...


Posted by Hasnain Bokhari









Sub: priyadarshan's movie are all copies.

I dont know if he had ever taken any original movie. Others are all is remakes of malayalam,tamil or telugu. Kyon ki(mal rip),ye tera ghar ...


Posted by rup









Sub: Hi priyan

Hi Priyan, I am reguler with your movies. i too interested in script/story writing. i have a story with me for a serouse film. A ...


Posted by Lizzy









Sub: Priyadarsan

"The next film, Malamaal Weekly, is an original, not a Malayalam remake" - Hello, It's a reamke of an Irish movie - Waking Ned Devine- ...


Posted by Suresh









Sub: Priyan

I never liked his films. I always thought the characters in his movies were over the top and the violence and the shouting (Hulchul for ...


Posted by PA






Disclaimer