Home > India > Movies > Interviews


Discuss |
Email |
Print | Get latest news on your desktop

The Rediff Interview / Rohit Shetty

'I am planning Golmaal 3 with Paresh Rawal'

October 07, 2008


| | |
| --- | --- |
| Rohit Shetty | |
| | |
| | |
| | |
| | |
| | |
| | |
Rohit Shetty dons many hats -- director, cinematographer and presenter. After giving us the action-packed Zameen [Images], Shetty did a volte face and presented us with a rollicking comedy Golmaal. Then, he tried to make a thriller with Sunday, a film that ended up having more comedy than thrills.
Now, the director is back with Golmaal Returns, repeating the Golmaal cast of Ajay Devgan [Images], Arshad Warsi [Images] and Tusshar Kapoor. The new film has some new additions in the form of Kareena Kapoor [Images], Celina Jaitley [Images], Amrita Arora [Images] and Anjana Sukhani. Sharman Joshi, who was earlier seen in Golmaal, is replaced by Shreyas Talpade [Images].
Nithya Ramani caught up with the director to know more.
How did you get into direction?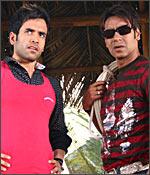 Well, my father was an action director and a character actor [legendary fight master Shetty]. So I was naturally inclined towards films. I was 15 or 16 when I assisted Sandesh Kohli in Phool Aur Kaante. Later I assisted Veeru Devgan [fight director].
Being the son of an action director, I wanted to make an action film, so I made Zameen. I was going to make a thriller after Zameen but that didn't happen. Instead Golmaal happened. I was nervous of it's reception as this was my first comedy after making action films. Fortunately the film turned out well.
What is Golmaal Returns about?
This is yet another slapstick comedy -- a lot of confusion with rib-tickling jokes. Kareena plays Ajay's wife. She's not a typical bharatiya naari -- she's into Ekta Kapoor [Images] serials -- that is why we named her Ekta. The soaps fill her head with suspicions about her husband. The suspicion grows with every episode!
Tusshar plays Kareena's brother and Amrita plays Ajay's sister. Ajay happens to get stuck somewhere one night and to escape unnecessary suspicion, lies to Kareena that he was at a friend's place. Incidentally, a murder takes place at the very same venue where he was.
Meanwhile, Amrita falls in love with Arshad, who happens to be a cop in charge of the murder case. To prove his innocence, Ajay forces Shreyas to act as the friend he was with that night. Unfortunately, there happens to be a real person of the same name and this creates a lot of confusion.
Also Read: Ajay Devgan, Arshad Warsi to fight it out!
All your films -- Zameen, Golmaal, Sunday and now Golmaal Returns -- star Ajay.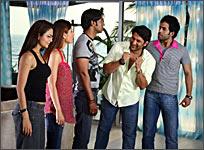 No one else willing to work with me [laughs]! But seriously, since I've worked with Veeru Devgan [Ajay's father], my rapport with Ajay is very good.
Why have you changed the cast of Golmaal Returns?
Firstly, Golmaal Returns is not a sequel to Golmaal. It is a new story, like the Munnabhai [Images] series. When I read the script, I had this intuition that that this could be Golmaal 2 and that is how it is titled. Apart from the name, there is nothing else in the film to call it a sequel.
As for the cast, we wanted Sharman Joshi but he was busy with Dilli 6. So we approached Shreyas, whom I loved in Iqbal. Shreyas has gelled so well with everyone that you won't miss Sharman.
As far as Kareena goes, it was a strange coincidence. I was shooting in Delhi's [Images] Chandi Chowk, when the script was narrated to Kareena. I didn't even realise that it was being read to her when she agreed. Initially, I was worried about Kareena as she is a star and my film has no stars in it. I sat with her and explained my apprehension. But she has done a very good job.
As for Celina, you will see a new side to her. She plays a South Indian girl Mira Nair. I chose the name after I watched The Namesake [Images].
Why make Tusshar's character mute?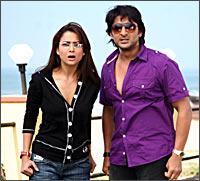 The role in the movie was such. Even if I change my other characters, I will not change Tusshar's because his is the most loved character. The first thing people ask me is whether Tusshar speaks in this film or if he plays dumb.
How has life changed since Zameen?
People went to the theatres to watch Sunday, expecting it to be a comedy. So I decided to continue with comedy. Ultimately, you have to give what the audiences want.
As a person, I have changed a lot. I've learnt to look at films from the viewer's perspective.
Can we expect a third Golmaal?
I am planning Golmaal 3, with Paresh Rawal [Images].
Email |
Print | Get latest news on your desktop