Home > News > PTI

Social worker Banoo Coyaji dead

July 15, 2004 18:56 IST



Noted social worker and director of Sakal Group of Newspapers Dr Banoo Coyaji died in Pune on Thursday following a prolonged illness, family sources said. She was 86.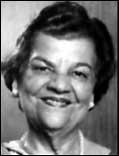 Coyaji had won the Ramon Magsasay award, the Padmabhushan and the Padmashree and several other honours for her outstanding contributions to the society.

She did a lot of work on family planning, urban and rural health and children's health.


More reports from Maharashtra
Read about: Telgi case | Mumbai blasts


© Copyright 2006 PTI. All rights reserved. Republication or redistribution of PTI content, including by framing or similar means, is expressly prohibited without the prior written consent.