Home > News > Specials

The Rediff Special/Arthur J Pais in New York

'He's a seer and a rock star'

October 15, 2005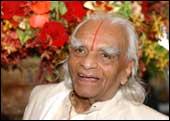 Never offer B K S Iyengar a chair when he is teaching you. Don't even think that he is 86 and he needs to sit down, especially on a day he has met with over 100 people at a number of engagements.
On Friday, the man known as the father of modern yoga, firmly refused the chair film director Mira Nair, who had earlier quizzed him on the mysteries of yoga, offered him. Iyengar, whose mischievous nature and showmanship were evident in a film tribute screened earlier, was getting ready to lead a huge audience in New York into chanting 'Om' when Nair offered him the seat.
A teacher who sits is not a good teacher, said Iyengar, who walked to the stage with astonishingly agility. He drew applause from over 3,000 people at the New York City Center who had come to pay respects to the master, who says this is his last trip to America. Over half the audience had paid $75 to listen to him and to watch more than 25 of his disciples perform specially choreographed yoga movements with the grace of first-rate ballet artistes.
(A few people might have sensed the irony when the disciples performed intricate yoga movements to a serene song by Nusrat Fateh Ali Khan. The singer had died of complications resulting from obesity and had overlooked yoga, meditation and the vegetarian diet recommended by some of his friends.)
The applause the disciples received for their yoga ballet was more spontaneous and sustained than the one heard at any successful Broadway show, including The Producers.
Iyengar's New York visit, part of a six-city tour, followed sold-out speaking engagements in Los Angeles, Boston and Colorado, The New York Times reported. He had been received, the newspaper added, 'with the kind of adulation reserved for the Dalai Lama or (Harry Potter creator) J K Rowling.'
There was also thunderous applause when Nair, who would hold a 45-minute long conversation with Iyengar, said that if people found "serenity, tenderness, some beauty" in any part of her films it was because of the yoga she had learned from her guruji.
It will be a great honour to touch his feet, she said. For her, guruji was an extraordinary person. He was a healer on the one hand, she said. And, on the other, he was also "a cascade of laughter." He was a seeker, she said – a seer and a rock star. She then prostrated herself to touch Iyengar's feet, but by then he had alredy turned his head. A volunteer then gently turned him back so he could see Nair. A beaming Iyengar then gave her a quick blessing.
Iyengar was in New York as part of his tour, which was also marking the 50th year of his first visit to America to promote yoga. His current tour also created a stir partly because it was his first in 12 years. And partly because he was also promoting his autobiography, Light on Life, by appearing at Border and Barnes and Noble bookstores.
It took him nearly 60 years to fathom the spiritual depth of yoga and understand the working of the atma, he declared in New York. But the readers of his newest book, he added with a chuckle, don't have to go through a 60-year search.
(In his new book, he recalls, while noting yoga students today have the benefit of 'many gifted yoga teachers,' there were, he said, 'no wise, kind teachers to lead me.')
Iyengar, who began his yoga education under his brother-in-law T Krishnamacharya, confesses: "In fact, my own guru refused to answer any of my innocent inquiries on yoga. He did not instruct me as I do my students, offering them step-by-step guidance on asanas." (Elsewhere in the book, he calls Krishnamacharya 'my revered teacher and guru. . . who took the place of my mother and late father as my effective guardian.')
Iyengar who was introduced to the West by violin virtuoso Yehudi Menuhin in the early 1950s, sowed the seeds of yoga in America, particularly with the publication of his benchmark book, Light on Yoga, in 1966. Yoga, is practiced today by an estimated 16 million people in the US and has become a multibillion-dollar industry.
A perennial bestseller, Light on Yoga has been translated into about 20 languages outside India, and has reportedly sold over a million copies. Before he arrived in New York, Iyengar had spent a few days in four other cities, including Los Angeles, where his audiences included actresses Annette Bening and Ali McGraw. One of the hosts of the New York event is fashion bigwig Donna Karan, who, along with supermodel Christy Turlington, is among Iyengar's most prominent supporters.
Another admirer is the Oscar-winning actress Olympia Dukakis who narrated the Light of Life film tribute to Iyengar, who was continually called 'guruji' during the three-hour City Hall event.
His newest book, which is already on several regional bestsellers across America, is expected to be the most successful book after Light on Yoga. For it chronicles his life from his illness-plagued childhood in Bellur, Karnataka to the racism he encountered in Britain and America in the early 1950s and the inner turmoil and sadness he faced when his wife Ramamani died after 30 years of marriage in 1973.
When Nair asked Iyengar about the physical and spiritual dimensions of yoga, he candidly said, because of his childhood illness, his initial interest in the yoga was physical.
"The inner journey was not in my heart," he added. But, over the next decades, "I started penetrating my inner body." In Los Angeles, too, Iyengar, the 11th of the 13 children born in a poor family, had talked about his various illnesses, including typhoid, malaria and tuberculosis. There was bad health all around him: three of his siblings died, and his father die of appendicitis when Iyengar was barely nine. "Yoga," he said then, "saved my life. I took it for my health, and then I took it as a mission."
The experience of penetrating his inner body was often scary, he said in New York. When he closed his eyes and started going deep inside his inner self, he explained, he was scared of the darkness.. But he kept on persisting because "the unknown hands of God helped me to look deep within myself."
In his book he reveals he was ardent, passionate and stubborn about learning more and more about yoga despite not having a good teacher. "Maybe I needed to show that I was not worthless," he explains. "But far more than that, I wanted to find out who I was. I wanted to understand this mysterious and marvelous yoga which could reveal to us our innermost secrets."
He also said that from his early years, he had strongly felt that yoga could teach a layperson of any background how to lead a graceful life. "Many gurus wanted to initiate me into priesthood," he said. "I refused them all."
Just as yoga is increasingly catching on in America, the opposition to it is also growing. Many Christians, especially in conservative states such as Colorado, have sought to have it banned from after school curriculum, asserting that yoga was part of Hinduism. Nair asked Iyengar about the religious dimensions of yoga.
"The word religion does not suit self-culture," he said, adding that he considered yoga to be part of self-culture. Man made religions created divisions, he continued, explaining the concepts of a good, ethical and moral life associated with yoga is found in the core of all religions.. "Yoga teaches how to live honorably and gracefully," he said.
When a child is born, it has no concept of any religion, Iyengar continued, adding that a childlike mind helps one understand yoga. Nair asked him about people deciding how much to possess in this materialistic age. With his trademark chuckle, which is invariably accompanied by the mischievous glint in his eyes, Iyengar said the question had challenged Patanjali, the father of yoga, in the fifth century BC.
He talked about how a sustained practice of yoga and concomitant meditation helps the practitioners to differentiate between tainted happiness and untainted happiness. Even if people followed a dharmic path and had worldly pleasures without violating moral laws, they ought to remember to take the next step and grow inward so they gain moksha.
"Untainted happiness is the inner journey and it is that journey that really matters," he continued. "Yoga takes you there."
The Rediff Specials


What do you think about the story?








Read what others have to say:





Number of User Comments: 4








Sub: He's a seer and a rock star'

Sri. Iyengar isthe cultural ambassader of India abroad .He is great in line with the president of india His EX: Dr.APbdulkalam.Mr. Iyengar's younger days has ...


Posted by gopinathapaivengatampally









Sub: Yoga

Krishnamurti is a good yogi. The Christians who object to their children being taught yoga (to the extent of physical exercises) are not very wise. ...


Posted by O G VARGHESE









Sub: Unparalleled Yogacharya

Thanks Rediff. How about a slide show on Iyengar? BKS Iyengar has said in his website:When I practice, I'm a philosopher.When I teach, I'm a ...


Posted by bs ramakrishna









Sub: Long live the father of modern yoga !

Wonderful piece by Rediff. Thanks.


Posted by Dr. Cajetan Coelho






Disclaimer