Home > News > First Look


First Look: India's Air Force One

September 20, 2005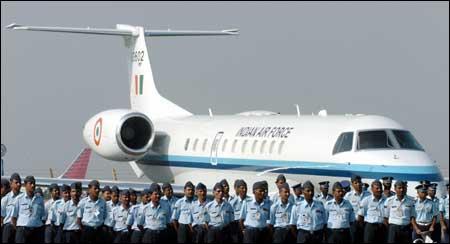 In an effort to develop its own "Air Force One", India on Tuesday inducted an executive Brazilian Embraer 135 aircraft into the Communications Squadron of the Indian Air Force, which looks after Indian VIP travel.
The state-of-the-art aircraft is one among three executive jets India received from the Brazilian manufacturer a fortnight ago.
Presently every time the President or the prime minister go abroad, Air India jumbos or 747s are pulled out of service.
The Brazilian Embraers come with unique safety features and premium comforts.
While two of the three aircraft are likely to be flown by Indian Air Force for the VIPs, the third will serve the Border Security Force.
The cost of the five Embraers ordered in September 2003 by the then National Democratic Alliance government and endorsed recently by the ruling United Progressive Alliance is about $170 million.
Photograph: MANAN VATSYAYANA/AFP/Getty Images


What do you think about the story?








Read what others have to say:





Number of User Comments: 8








Sub: finally airforce one for india is done

this is great message that finally india has its own presidential or prime minister's plane as .. every time a vip was going out of ...


Posted by jeevan









Sub: India's Air force One

It is harting to see at last the vip's have their own aircrafts, this will save Air india from huge losses and passengers from cancellations ...


Posted by sushrut chaudhary









Sub: Why we cant make one

Why India cant make one aircraft of its own. We are purchaging from outside but not creating anything worldclass. Time has come to tell world ...


Posted by Deepak









Sub: Don't compare

I know it is just a printing mistake but correct the mistake. 17441.8 million US dollars is 17.4 billion dollars and with that kind of ...


Posted by True Indian









Sub: This isnt AF 1

This is a nice buy for the IAF. At least Air India can now use their planes for better things. But these will not be ...


Posted by abhejit






Disclaimer