Home > News > First Look


The tough judges who 'sealed' Delhi

rediff news bureau | November 10, 2006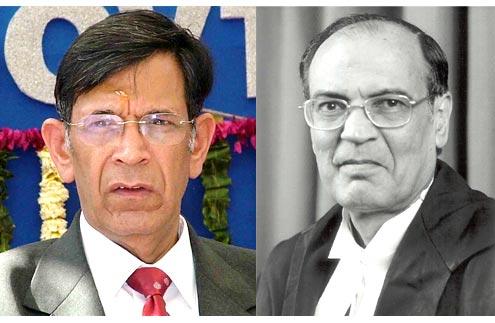 'No one can be permitted to place a dagger at the government's neck and seek relief. No one can be permitted to hold the city and its law-abiding citizens to ransom.'
Those are the words of the Supreme Court Chief Justice Y K Sabharwal (far left) and Justice C K Thakker while hearing the Municipal Corporation of Delhi's petition against the sealing drive that is underway in the capital.
A bench comprising these two judges said it would not give any more time to the illegal shops and they could either close down on their own or get shut by Delhi's city authorities.
'We find no ground whatever to modify our order. It is the obligation of governments to ensure compliance of the orders of this court,' they added.
The firmness with which the two judges dealt with the situation must come as no surprise. They have handled several important cases and have issued several landmark sentences.
A bench headed by Justice Sabharwal held as unconstitutional the dissolution of the Bihar assembly on the basis of the report of Governor Buta Singh in 2005 but refused to revert the action, thereby paving way for fresh elections.
Justice Sabharwal's pre-eminence is also proved by the fact that he was appointed as a Supreme Court judge barely a year after he was appointed as chief justice of the Bombay high court.
He has been handling several important matters, including public interest litigations relating to forest and environmental issues and one on the diminishing tiger population in Sariska National Park, which required the intervention of Prime Minister Manmohan Singh.
Justice Sabharwal is also heading a bench monitoring the ambitious river inter-linking project.
He was also part of the bench which had cancelled the petrol pump licenses granted under the discretionary quota of the then National Democratic Alliance government.
Justice Sabharwal dealt with the politically sensitive Jharkhand Mukti Morcha bribery case, medical scam and unauthorised constructions in the capital.
The chief justice, incidentally, has intersting viewes on another raging issue of recent times -- the death penalty.
Soon after taking charge, he had said, 'I am of the view that as per the provisions of law, death penalty should be awarded in the rarest of rare cases. But, if you ask my opinion as a citizen of the country, I am for abolition of death penalty.'
Justice Thakker too is a very learned judge, and is a master in administrative laws. He has lectured widely on the subject and has authored a highy-acclaimed book on the subject.
Justice Thakker has served as the chief justice of the Himachal Pradesh and the Bombay high courts.
He was also the acting governor of Maharashtra for some time in 2002.
Coverage: The Delhi sealing issue


What do you think about the story?








Read what others have to say:





Number of User Comments: 56








Sub: Bravo Bravo

As citizens of Republic of India we must appreciate what these two judges have shown to the world. I also went through the postings with ...


Posted by vishal









Sub: sealing:right or wrong

although sealing is going to benefit the people of delhi in future ,but who is responsible for the lakhs of families who is affected from ...


Posted by anil









Sub: Judges are right

Judges are technically right. In India, govt clerks/officers, agents form a nexus to bypass laws and these guys setup a parallel system of their own. ...


Posted by Parul Kumar Sharma









Sub: Justice In India

Glad to see sense of Social Responsibility which is almost NIL in people who can reach out to/influence/bring a better change in people. Good piece ...


Posted by Sirisha









Sub: Judiciary should not yield to traders!

Kudos to the judges! They should never budge to the pressures at any time! There is a strong wind blowing across the nation amidst the ...


Posted by B.Gautam






Disclaimer