Maharashtra strongman Sharad Pawar was elected president of the Board of Control for Cricket in India in a high-voltage contest that ended Jagmohan Dalmiya's 21-year-old monopoly over the cash-rich sports body.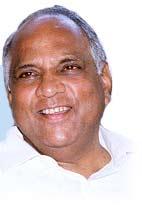 Pawar's election to the top post after a failed attempt last year reflected a change in power equations as his team swept the polls by comprehensive margins in the highly-surcharged 76th Annual General Meeting in Kolkata on Tuesday.
The Union Agriculture Minister defeated the Dalmiya-backed incumbent Ranbir Singh Mahendra by a whopping 20-11 margin, which was in stark contrast to last year's elections that had seen Mahendra pip Pawar 16-15, thanks to the casting vote of Dalmiya.
In a complete washout for the Dalmiya group, the Pawar faction won all the other top posts by identical 18-13 margins.
Niranjan Shah defeated Gautam Dasgupta for the secretary's post, M P Pandov became the new joint-secretary, humbling Brijesh Patel, while N Srinivasan was elected treasurer after his victory over Jyoti Bajpai.
The elections, conducted by Supreme Court-appointed observer T S Krishnamurthy, passed off smoothly after the former Chief Election Commissioner clearly spelt out the guidelines in advance.
"As I said yesterday, we were quite confident of victory and the entire election procedure," a beaming Pawar said on emerging from the AGM.
| | |
| --- | --- |
| | Also Read |
| | |
"The Supreme Court had appointed Krishnamurthy, who has the experience of conducting elections in the country, to conduct the BCCI elections. Under his leadership, the process of election was completed," he said.
"I'm grateful to all those who supported me and my entire team... I also expect full cooperation from Mahendra, the outgoing president.
"We will concentrate on building basic infrastructure for cricket throughout India. I'm sure our collective efforts will be able to give justice to young, budding players and cricket-loving people of the country."