The Pakistan Cricket Board (PCB) plans to investigate alleged comments made by India coach Greg Chappell that stated he is concerned with paceman Shoaib Akhtar's bowling action.
"We have seen these reports and we are trying to find out whether he has said these things," PCB chairman Shaharyar Khan said on Wednesday.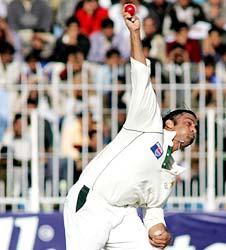 "If he has implied anything about Shoaib's action it is a violation of the ICC [International Cricket Council] code of conduct."
A former Australian captain, Chappell was reported by an Indian television channel as saying that there is "something seriously different" about Shoaib's action.
His comments came after Indian batsmen Sachin Tendulkar and Anil Kumble were hit on the helmet by rising Shoaib deliveries in the third and final Test between the sides taking place in Karachi.
The television channel claimed Chappell had told them he had seen a lot of people hit by Shoaib and that India could do without their players being hit like that.
Khan pointed out that the PCB has also asked match referee Ranjan Madugalle to look into the matter.
"Even if something has been implied in any statement we will pursue it with the match referee," he said
"In 2004, our chief selector Wasim Bari made some comments about the umpires officiating in a international game involving Pakistan and he was reprimanded by the ICC for violation of code of conduct which applies to all players, team and board officials."
The 30-year-old Shoaib has been reported three times for a suspect bowling action but was cleared to play first class cricket in 2001, after which he has not been reported again.
"Even if there is a problem with his action, there is a procedure outlined by the ICC and team officials can't imply anything," Khan added.
Photograph: Aamir Qureshi/AFP/Getty Images