Bapu Krishnarao Venkatesh Prasad was one of the finest fast bowlers produced by India after the heady days of Kapil Dev.
'Fast' could be a misnomer for a bowler who never consistently went above the 130 kmph mark, but then, as the likes of Glenn McGrath have demonstrated successfully over decades, it is not about pure speed.
Prasad, at his best, was about bowling the channel around off, with the ability to seam the ball away, or in, very late. His height, and a very high-arm delivery, meant the ball came onto the length spot from above the batsman's eye line, making it harder to judge.
He forged an impressive partnership with his quicker Karnataka and India team mate Javagal Srinath. His career figures -- 96 wickets at 35.00 in 33 Tests and 196 wickets at 32.30 in 161 One-Day Internationals - do not tell the true story; the arc of his career was hampered, often at critical times, by injury. This, coupled with the fact that in those days the team did not have a proper physio, meant that the national team did not get the best possible mileage out of a bowler who had the skill sets to perform prodigies.
Since his exit from the international stage, Prasad qualified himself as a coach, then took over the helm of the Under-19 team before taking up the reins of Karnataka. Insiders, in fact, suggest that he will likely take over as bowling coach of the national side, in the not too distant future.
Prasad spoke with Haresh Pandya on the sidelines of the Ranji Trophy tie between Karnataka and Saurashtra at Rajkot last week, discussing the current national side and particularly, the plethora of seam bowlers who have turned out for Team India in the recent past.
What are your impressions of the current crop of Indian pace bowlers?
It is a fantastic scenario. Plenty of good fast bowlers have been coming up. But I think if you want to encourage cricketers to take up fast bowling, you need to prepare some very good fast tracks. The BCCI, too, now wants to ensure that the major domestic competitions are played on fast pitches. I think this is a good, healthy sign. In fact, Kapil Dev, Javgal Srinath and I have been saying for a long time now that if you have to encourage and produce more pace bowlers, you need to prepare fast pitches.
Shanthakumaran Sreesanth captured the imagination during the recent tour of South Africa. What did you make of him?
I think he has got the right attitude for a fast bowler. He has got a good action, and he releases the ball nicely. Above all, his whole approach towards the game is fantastic. However, what I would like to see him do is to control his emotions a bit, because I do not think you should go unchecked or cross certain limits. He needs to be careful, what with this ICC Code of Conduct and things like that. But he is a very good fast bowler, no doubt about that.
He has begun well in international cricket, but then so have many other young bowlers. The key question is, can he last the course, does he have a long future?
Yes, he has. In fact, young bowlers like Sreesanth, Irfan Pathan and Munaf Patel are very talented. They all have a very good future, fitness and form permitting. But we have to wait and see how long they will continue to play like this.
I mean, it should not be just one series or only one year. You have to play and perform consistently well throughout - as long as you keep playing. Yes, every player goes through the inevitable ups and downs, but I feel you need to be pretty consistent right to the end of your career and not rest content after doing well in your first couple of series or your first season in international cricket.
So, if you ask me, I would like to wait and see how the players, specially the younger crop, particularly the new fast bowlers who have come up, fare in the next two years or so.
For now, do Sreesanth and Zaheer Khan make up the ideal opening attack?
Well, they have bowled together in just one series so far. It takes some time for two fast bowling partners to understand each other, study their strengths and weaknesses and bowl in tandem. So I think we have to wait and watch how Sreesanth and Zaheer are going to complement each other as a bowling duo in the next couple of series as well.
Zaheer has been bowling very impressively in recent times. Was it unfair to keep him out of the team for almost two years?
It is up to the selectors concerned and the team management involved to think about this. But as far as I am concerned, I would like to emphasize here is that Zaheer is the main strike bowler, and the other pace bowlers should revolve round him. It is refreshing to see Sreesanth, Munaf, VRV Singh and other bowlers coming up and supporting Zaheer and, of course, Anil Kumble as well.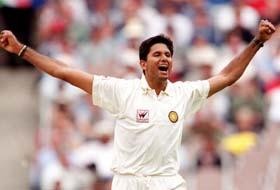 In recent times, we have seen some very impressive seam bowlers get into the side, start with a bang, and then fade rapidly. To what do you attribute this?
It is a very good observation, but I would not like to make any comment without speaking to the bowlers concerned. Maybe this has been happening to them for various reasons. Maybe, just maybe, their fitness might not be up to the mark. Maybe it is a case of burnout because of too much cricket too soon, and so on and so forth.
I am not very sure what exactly could be the reason. But, yes, they have slowed down pretty soon after promising a lot to begin with. There is no doubt about that. Only the team management can answer this question, because they are the ones who work with them at close quarters.
Could it be that of late, we have been in a hurry to blood youngsters, and also to discard them at the first sign of failure, without allowing them to settle in and go up along the learning curve?
Yes, that is true. Why only fast bowlers - we've done that with batsmen, with spinners, with seamers, everyone. We have seen Irfan Pathan, Suresh Raina, Piyush Chawla - they, and some others, have been picked straightaway on the basis of their performances in Under-19 cricket.
I think this is not the right thing. It is fine and perfectly all right if their talents and performances at the Under-19 level are outstanding. But otherwise, I feel they need to play a couple of years - at least three years, in fact - of domestic cricket. If a cricketer performs consistently well in Under-19 matches, you should straightaway play him in his senior state team. If you find him more than good, then make him play in the zonal Duleep Trophy.
I think youngsters need to play this sort of cricket for two to three years. Only then will they be fully prepared to play at the international level and they will last longer, too, because they would have gone through a lot of pressure and learnt many vital things in domestic matches. So they would be much better prepared to play at the highest level.
Is aggression a necessary ingredient of a fast bowler's make up? In your time, though you are reputed to be mild-mannered, there have been the odd instances where you cut loose - as for instance that famous incident involving Aamir Sohail, during the 1996 Wills World Cup, on your home ground in Bangalore?
Well, I was not really aggressive. That was was just one of those moments; it just happened. But, yes, I guess it does help for a fast bowler to be aggressive. At the same time, he needs to know how aggressive he can get; he needs to draw a line somewhere, and never cross it.
You retired at a time when you seemed capable of lasting for a season or three more. Was that out of frustration, out of being ignored by the national selectors?
No, I did not retire with any grievances. I have no regrets, no frustrations, whatsoever. The only regret I have is that I could not play in the 2003 World Cup in South Africa. I had been working very hard, bowling really well and was aiming at it. Somehow, things really did not go my way. But that is life. You need to move on.
I have always been a very satisfied person because I have not done anything wrong. I had done my best and given my best against South Africa, England, Sri Lanka and Pakistan. I always played for the team. I had been a team-man throughout my career. I am always proud of that. I only wish I had played in the last World Cup. But it is OK; it happens.
Now that I have been coaching, I want to give back quite a few things to the boys. I have coached the Under-19 team; I have been coaching Team Karnataka and I really enjoy the challenge. It is very exciting, fantastic, to be with the boys and show them directions in terms of technical, tactical and mental sides of cricket.
Your name is being discussed as a possible bowling coach for Team India. How prepared and willing are you to undertake the responsibility?
I feel it is a specialized job to be a bowling coach. I think you need to have specialists in those areas. Yes, I am quite prepared for the job. Not only have I undergone coaching courses of the English Cricket Board, I have been a coach for quite some time now. It will be a pleasure and a great honor to associate with the present set of Indian fast bowlers. It is going to be a great opportunity for me, if at all it comes my way. I have got the right credentials, both in terms of playing cricket and in terms of coaching first-class players. So I am quite sure that I can give my best as a coach, as I know how to help improve the Indian fast bowlers and get the best out of them.
Are Indian cricketers strong enough to take the grind foreign physios put them through?
Of course we are strong. But we need to accept that we are not as strong as the Australians or the English or the South Africans. It is very important that we understand ourselves basically. We need to understand our strengths and weaknesses and be within their limits.
As far as fast bowlers are concerned, the team management and the coaches need to handle them in the right way, whether they are playing for their state teams or their country. If you make them bowl too much, they will burn out very soon. There have been a few glaring examples before us. So I think we need to handle our fast bowlers in particular extremely carefully. If they have to prolong their careers, it is our responsibility, their coaches' responsibility, their associations' responsibility, to make sure that they go a long way.
Talking of nursing our fast bowlers, was it right to send Irfan home, midway through the South Africa tour? Wouldn't that have dealt the player a psychological blow?
Yes, if you send any player back home in the middle of a series, it is going to be a big psychological blow to his confidence. But it is up to the selectors and the team management how they handle such a sensitive case. It is very important to take into confidence the player concerned and speak to him. I am sure the team management, comprising captain Rahul Dravid and coach Greg Chappell, among others, must have talked frankly with Irfan before sending him back to India.
What is your advice to the current crop of Indian fast bowlers? Should pace be the focus, or should the emphasis be on developing the weapons of swing and seam?
Well, you need both - the pace as well as movement. A fast bowler has to understand his strengths and weaknesses. If a pace bowler does not have enough speed, he needs to rely on movement and accuracy. He also needs to work on a bit of variations, like an odd slower ball, and so on. If someone is genuinely quick, he can afford to err in length a bit because he could get away with it. But, again, you need to bowl in the right areas. And at the highest level, you have to be accurate, you have to be there, you have to make the batsman play as much as possible. You have not just to create pressure for him but also to sustain it.
What is your reading of Munaf Patel? He was really quick not so long ago, and now he seems to have slowed down considerably. On top of that, there is this mysterious injury of his.
I do not know how the physio has handled Munaf and his injury. But there is no doubt that Munaf is a very good prospect as a fast bowler. This is all I can say.
Pitches in the West Indies are traditionally fast. Keeping that in mind, how many seamers do we need to take in our World Cup squad?
I am sure the pitches in the West Indies will be more similar to Indian conditions, though you cannot be 100 per cent sure - you might come across the odd pitch with a bit of juice. I would think we need four fast bowlers - and keep in mind that we don't have too many quality spinners anyway. In fact, we have just two: Kumble and Harbhajan Singh. So, with four fast bowlers, the team management has plenty of options to play with, depending on the conditions.
Assuming they are all fit and in form, which four seamers would you pick for our World Cup squad?
Zaheer, Sreesanth, Munaf and Irfan. But there is a possibility of Ajit Agarkar also making it to the World Cup team, given his experience in one-day cricket. Personally, however, I would consider these particular four fast bowlers as my top priority.