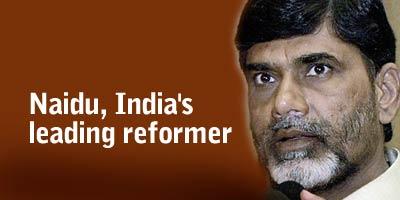 Fifty-four-year-old N Chandrababu Naidu, who was humbled on Tuesday when Andhra Pradesh voted him out as the state's chief minister, has been the most visible face of India's economic reforms and information technology revolution.
He managed to coax global IT giants Microsoft, IBM, Dell, Computer Associates and Oracle to set up shop in Hyderabad, when India hardly featured on global IT majors' radar. Naidu made an impressive presentation before global CEOs and convinced them to invest in his state.
But despite his growth-oriented policies, Naidu suffered a massive defeat at the hustings as the Andhra Pradesh voter cast his mandate in favour of the emotive issue of a separate Telengana state, which has been 'starved of development funds.'
Naidu, however, won international and domestic acclaim for taking Hyderabad places, making it a major for information technology hub. He was ranked amongst most innovative reformers in India, who implemented e-governance in his state and managed to bring in foreign investment of over Rs 57,000 crore (Rs 570 billion).
The cyber-savvy Naidu was well loved amongst corporate India, no matter the verdict against him.
He won accolades from across the globe for making Hyderabad a vibrant hub of knowledge-based industries. He is considered to be the person who provided the biggest boost to information technology amongst all politicians in India.
Industry leaders feel that Naidu did an excellent job of developing Andhra Pradesh and Hyderabad as an attractive IT destination. He played an important role in promoting not only Andhra Pradesh, but the whole IT industry.
He is credited with having helped create an enabling environment for the industry to flourish in India.
Naidu realised the importance of attracting global investment and was astute enough to understand that he would need expert guidance in his endeavour. He hired the professional services of global consulting majors like PricewaterhouseCoopers, A F Ferguson, KPMG, and Ernst & Young to steer the path to attracting investment from global companies.
The industry remembers him as the chief executive of Andhra Pradesh who put Hyderabad onto the global map. He lobbied hard and persistently for private and government investment to fund his 'Cyberabad,' which is acclaimed by many as one of India's cleanest and most beautiful cities.
Naidu style was not that of a politician's but more of a top manager's. At meetings with world leaders like former US president Bill Clinton or Singapore Prime Minister Goh Chok Tong, or at global settings like the World Economic Forum at Davos in Switzerland, he held his own, speaking with single-minded determination and a focus that the world's business leaders admired.
Unlike other Indian politicians, he used a laptop to buttress his words with impressive PowerPoint presentations. He made use of technology like no other Indian chief minister did then for governance and development.
He was dubbed the CEO of Andhra Pradesh Inc and had an impressive record to carry off the claim. He became a model chief minister whom other politicians wanted to ape. He was as popular amongst global investors as he was amongst the youth of the country who saw him as a fresh face of Indian politics.
He invariably spoke of e-governance, IT, investment, development, e-commerce, distance learning, telemedicine, biotechnology: topics that were as far away from politics as could be.
Born in April 1951, Naidu holds a post-graduate degree in Economics. He is married to the daughter of N T Rama Rao, the formidable founder of the Telugu Desam Party. He came into limelight when he stumped NTR's sons and widow, Lakshmi Parvathi, to seize the reins of the party.
Yet a lot of things went wrong with Naidu too. With the global old-economy sectors facing a slowdown, investment in that sector in Andhra Pradesh dwindled thus leading to burgeoning unemployment. Jobs in Andhra Pradesh, despite Naidu's reform-friendly policies, became scarce leading to some disillusionment amongst the masses.
His style of functioning was questioned as the opinion that started to fortify was that development was limited only to Andhra Pradesh's capital Hyderabad, and its twin city Secunderabad, and had failed to permeate into the rural areas of the state.
Naidu did make an effort at boosting rural reform in the state, but his attempt was considered inadequate. His opponents lost no time in projecting that his reforms strategy was flawed and not comprehensive enough to reach the grassroots level in the villages where the majority of the voters reside. Examples of rising rural unemployment, weak infrastructure, lack of social progress and insufficient focus on healthcare and education were cited by his detractors.
The state also had the dubious distinction of having the largest number of farmers' suicides following a crippling drought that left them heavily indebted with no ray of hope in sight.
Meanwhile, Naidu's defeat reverberated through the capital and forex markets as the BSE Sensex, the NSE Nifty, the rupee, all plummetted. While the Sensex lost 230 points, the Nifty shed 70. The rupee fell to its lowest since January 9, dropping to 45.45 per dollar.
The anti-incumbency mandate which saw Naidu being summarily dismissed may be just a sign of things to come, feel analysts and even the ruling National Democratic Alliance at the Centre may find itself short of a simple majority.