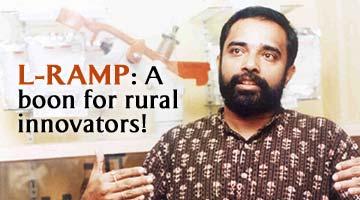 Innovation and rural India would seem mutually exclusive terms. But that is about to change.
The Lemelson Recognition and Mentoring Programme -- or L-RAMP -- launched in rural Tamil Nadu for inventors, is a union of technology, innovation and funds.
L-RAMP is a joint initiative of the Indian Institute of Technology Madras, Rural Innovation Network, and the Lemelson Foundation, USA.
Impressed with the work done by the Rural Innovations Network, the Lemelson Foundation has decided to pour funds into the project and give it financial muscle and a major impetus.
Background
IIT Madras is one of the premier institutes in India where the best brains from all over India meet for high technological education and basic and applied research.
Innovators in rural India? You bet!
Rural Innovations Network is a non-profit organisation with a mission to improve the quality of rural lives and livelihoods by enabling appropriate and environmentally friendly innovations to reach markets.
The Lemelson Foundation is a private philanthropic institution established by Jerome Lemelson, one of the most prolific inventors in the United States.
Rural Innovations Network is the brainchild of Paul Basil, a mechanical engineer with a post-graduate degree in forestry management.
After having worked for the National Dairy Development Board and later with the European Union's horticultural project in Kerala, he was associated with the Honey Bee Network, formed by a group at the Indian Institute of Management Ahmedabad that studies innovations by people in rural areas and their impact on rural life.
Basil came back to the southern part of India and set up Rural Innovations Network (www.rinovations.org) in January 2001 with just three people.
Spurring innovation
Last year, RIN met over a hundred innovators but Basil confessed that it took a lot of time for an innovation to hit the market. One of the most successful yet simple innovations that they identified last year was an insect trap. If kept inside containers storing grains, the trap attracts insects to it and prevents them from breeding in the grains.
Priced at Rs 90, it is a huge success.
RIN has tied up with an NGO called International Developmental Enterprises India that has presence in 12 states in the country, and also with the M S Swaminathan Foundation and N-Logue, which has around 2,500 kiosks.
The beginning
Although, the IITs have started a lot of initiatives in the areas of rural development, socially relevant technology, etc., they haven't been able to address innovators outside their campuses. One of the triggers for them was looking at students as innovators and transforming them into entrepreneurs.
That was how in 2004, August, IIT Madras came into contact with RIN which specialises in working with rural innovators. That was also the time the Lemelson Foundation based in the US, which works with inventors and innovators, was looking at expanding their operations outside the US.
They were planning to come to India to support the cause of innovation in India. As they work with the Massachusetts Institute of Technology in the US, they decided to make a preliminary visit to the premier institutions in India, the IITs.
They also met a lot of other organisations across the country. Finally, they decided IIT Madras was the place to start off their pilot project, and the state of Tamil Nadu, the geographical area.
When Lemelson found that the synergy between RIN and IIT Madras would benefit the project, RIN also was included in the initiative and L-RAMP was born.
The plan
Though RIN works with rural innovators, L-RAMP is a project that is not necessarily limited to rural areas.
"We might look at all the fundamental basic human needs like energy, water, etc. Lemelson is not specifically looking at innovations as a development phenomenon. Any innovation in any sector is welcome. It could even be a commercial product. That is how all three of us got together," Paul Basil, the founder of RIN says.
What tilted the decision in RIN's favour was its unique strength: working with rural innovators. There are not many players who are involved in such projects.
What Lemelson saw was IIT's technological focus and RIN's ability to not just develop technologies but its access to rural markets too.
"There are a lot of competent people who are good at developing technologies but where they fail is in developing a sustainable model. They recognised that RIN is an organisation that is building those market linkages between the private sector, entrepreneurs, and innovators. We are based in Chennai and Lemelson chose Tamil Nadu as the place of action, maybe that is another reason why we were chosen."
The lead for identification and short-listing innovators will be taken by RIN.
Paul Basil is confident that with L-RAMP happening, RIN will be pushed into the bigger league. Although the prime focus of RIN will remain serving rural areas, Basil sees L-RAMP as a pilot to check out their ability to look beyond the rural set-up.
"This gives us an entry point to innovations beyond the rural. Our mission remains the same, but we are checking whether there are areas other than rural where we can impact development. I feel 75 per cent of the innovations we support will have an impact on society -- the society comprising the economic levels belonging to middle and rural towns of India."
Ample funds
Lemelson Foundation brings with them funds of about Rs 8 crore (Rs 80 million) for a period of three years. L-RAMP plans to spend Rs 6 crore (Rs 60 million) in funding 15 to 20 innovations every year on projects ranging from Rs 5 lakh (Rs 500,000) to Rs 25 lakh (Rs 2.5 million), funding the activities of testing, trials, perfecting and readying for markets.
L-Ramp will essentially be a provider of funds, one of the most critical supports. The other support required will be services, like protection of intellectual property rights and helping the innovators do market research.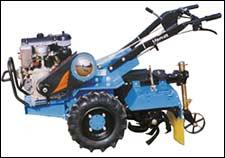 L-RAMP will have a steering committee headed by the Dean of the Industrial Consultancy Centre at IIT Madras, Prof Kalyanaraman, and two members, which will guide operational activities. At the higher level, there is an advisory board chaired by the director of IIT Madras with representatives from various fields like technocrats, NGOs, and people from industry.
Then, there is also a team drawn from IIT and RIN to carry out the day-to-day implementation of all the ideas.
Postscript: Like the Lemelson Foundation, some readers of rediff.com too are quite impressed with what RIN has been doing for rural India. Some of them have also come forward to help these initiatives. One gentleman has even invested a few lakh rupees in an innovation called Varun Tiller.
Photographs: Sreeram Selvaraj
Design: Uday Kuckian