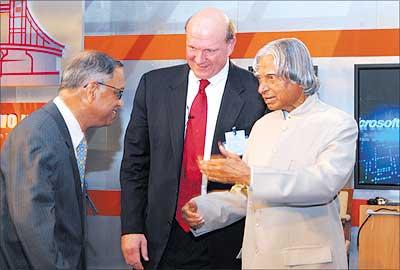 Favouring large-scale outsourcing of software services and R&D works to countries such as India, Steve Ballmer, chief executive officer of Microsoft said the US stands to benefit out of this.
"We will have to increasingly bank on India for scaling up our operations to rise on the next wave of innovation. So, outsourcing is here to stay. I have always stated that the so-called outsourcing is good for the US economy," he said while delivering the Fifth Madhav Rao Scindia Memorial lecture on Wednesday.
"With the US government making it more difficult for people to come into the US from outside, it puts pressure on companies like ours to relatively grow our talent pool in India even faster. About 18 per cent of our engineers in Seattle are Indians," he said. Ballmer, however, felt the attitude (against outsourcing) has improved over the last year.
Based on a Global Delivery Centre model, the $23-billion Indian software services industry thrives on the offshore business. But this has led to a backlash in many countries, including the US, as a result of local job loss. Ballmer also stressed on Indian engineering talent to redefine the software industry.
"Thirty per cent of all computer science graduates in the world are passing out of Indian universities. That puts a special responsibility on this country. The world is counting on the talent of this country to lead the next wave of innovation," he said, adding harnessing that talent, required companies to work with a big bold goal.
The Redmond-based software giant also wants to ramp up its operations in India but said newly graduated IT engineers from Indian universities need more practical training.
Ballmer said to ensure IT engineers are employable upon graduation 'requires a little bit of training' they don't receive while in school. Between 25 per cent and 30 per cent of engineers graduate from colleges and universities in India.
Microsoft, Ballmer said, is working to boost engineer graduates' real-life experience through its training program at its New Delhi facility. The company said it hopes hands-on experience will help increase the number of readily employable and trained engineers worldwide.
Microsoft`s research and development facility in India is the company's second largest R&D plant after its Redmond R&D centre. In 2006, Microsoft announced plans to invest $1.7 billion and increase the headcount to more than 7,000 in its Indian operations over the next several years.
President A P J Abdul Kalam (R) talks to N R Narayana Murthy, chairman Infosys Technologies as chief executive officer of Microsoft, Steve Ballmer, looks on during a Microsoft conference in New Delhi. Microsoft hosted a conference titled 'Bridging the two Indias' which was inaugurated by Kalam.
Photograph: Raveendran/AFP/Getty Images
Inputs from PTI