September 8, 2003
Arthur J Pais
In a career spanning over five decades, Asha Bhosle has sung for over 50 music composers ranging from Allah Rakha Qureshi, the tabla maestro who occasionally composed songs for films, to the youngest composers today.
"I sang for Tanuja over 30 years ago," she had once told me, "and I have sung for her daughter Kajol." She chuckled, and said, "I am sure I will be around to sing for Kajol's daughter."
rediff.com lists 70 milestones to celebrate the 70 years of the versatile singer's life.
1. Asha Bhosle enters the movies in 1948 with the now forgotten Chunaria. The music scene is dominated by Shamshad Begum and Geeta Roy. Asha's elder sister Lata Mangeshkar is slowly making a mark, but while Lata shoots to the top in about five years, Asha has to wait for many more years.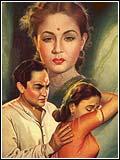 2. Her earliest songs are composed by the likes of A R Qureshi, Sajjad Hussain and Ghulam Mohammed, but none of them are huge hits. Her songs in Sangdil, starring Dilip Kumar and composed by Sajjad, get her some recognition in 1952.
3. Bimal Roy is one of the earliest filmmakers to recognise her talent and uses her, though sparingly, in Parineeta (1953). Most of the songs are sung by Geeta Roy.
4. Raj Kapoor considers Lata a divine gift. But he is also alerted by her younger sister's talent. In Boot Polish, Asha sings the phenomenally popular Nanhe munne bachche with Mohammed Rafi.
5. Composer O P Nayyar gives her a big break in CID, starring Dev Anand, Shakila and newcomer Waheeda Rehman. The 1956 film also had songs by Shamshad Begum and Geeta Roy. A few years later, as a romantic relationship develops between Asha and Nayyar, he uses her voice exclusively for nearly two decades till their friendship ends.
6. Nayyar gets her to sing in two big hits, Tumsa Nahin Dekha and Naya Daur. The Maang ke saath tumhara number in the latter becomes very famous.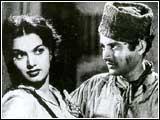 7. The success of Naya Daur (1957), produced by B R Chopra, forges a special bond between Chopra and Asha. In the following decades, she would be the principal female singer in many Chopra hits, including Waqt and Gumraah.
8. Contrary to the opinion that only O P Nayyar recognised her early in her career, a handful like Khayyam give her good assignments in the 1950s. Though she sings only a few words in the title track of Khayyam's Phir Subah Hogi, you feel her presence throughout the haunting number dominated by Mukesh.
9. Many of her songs are picturised on the likes of Helen and other oomph girls. Her talent as a singer of immense resources is seen in Sone Ki Chidiya. The 1958 film had a haunting score by Nayyar.
10. Asha becomes a sensation with the frothy numbers S D Burman has composed for her and Kishore Kumar for Chalti Ka Naam Gaadi (1958). Songs like Ek ladki bheegi bhaagi si make the film an evergreen musical comedy.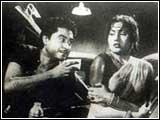 11. C Ramachandra is another composer who gives her a boost in the first decade of her career. Her songs for him in V Shantaram's films, especially Navrang (1959), further consolidates her position.
12. Newcomer Ravi makes an auspicious debut with Devendra Goel's Vachan in which Asha sings the lovely Chandamama door ke.
13. Asha and Ravi click in Dilli Ka Thug. Her duet Cat mane billi with Kishore Kumar is a funny, fast-moving song that consolidates their position in the industry.
14. Guru Dutt, the producer of CID, remembers Asha when he launches Chaudvin Ka Chand. Ravi wants Geeta Dutt, Guru Dutt's wife, to sing the film's major songs, but Geeta backs out as she claims she cannot do full justice to them. Guru Dutt insists Asha sing the songs.
15. The success of Chaudvin Ka Chand's music prompts composers to prefer Asha to Geeta.
16. Geeta Dutt sings most of the songs in Guru Dutt's Sahib Bibi Aur Ghulam (1962), her last major film, but Asha has the one memorable song, Bhanwra bada nadan.
17. Bimal Roy and composer S D Burman give Asha a haunting song, Ab ke baras in Bandini. The film had a wonderful Lata number Mera gora ang laile but Asha's emotion-packed song proves she is in the major league.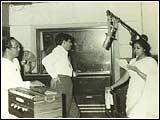 18. Jaidev challenges Asha with his intricate composition in Mujhe jeene do and Ramlal makes excellent use of her voice in Sehra. The film is produced by V Shantaram, who thinks Asha's vibrant voice is better than sister Lata's.
19. Kishore Kumar has composed music for half a dozen films and Asha is his first choice. Listen to her evocative songs in Door Gagan Ki Chaon Mein (1964) and you will realise what a wonderful team this was.
20. The songs of Yash Chopra's Waqt (1965) become a big hit. Ravi, who prefers Asha over Lata, is the composer.
21. Asha has a mellow, lingering and memorable song Tora man darpan in Kaajal (1965). Once again, Ravi proves that Nayyar is not the only composer who has a great rapport with the singer.
22. Mere Sanam, another great hit of 1965, has several beautiful songs sung by Asha and composed by Nayyar. Jaayiye aap and Yeh hai reshmi zulfon ka andhera. Both solos present two distinct emotions. Asha does full justice to both. The former is a haunting love number while the latter is a seductive one.
23. In Teen Deviyaan (1965), S D Burman brings Kishore Kumar and Asha to produce fast-paced, immensely popular music.
24. Phir Wohi Dil Laya Hoon has a superb, fast-paced score by Nayyar. This Nasir Hussain film is a roaring hit. Asha's pensive number, Aankhon se jo utri, once again demonstrates that she can turn even the most intricate tunes into classics.
25. Rising composer R D Burman challenges Asha's vocal chords with Aaja aaja (sung with Mohammed Rafi). The film, Teesri Manzil (1966), produced by Nasir Hussain, is another huge hit.
26. Madan Mohan, another composer bewitched by Lata, keeps aside a challenging song for Asha from time to time. How can one forget the enchanting and seductive Jhumka gira re in Mera Saaya (1966)? Though Lata sang the hit title song, Asha's formidable rendering of Jhumka gira re made it a chart-topper too.
27. The seductive Raat akeli hai picturised on Tanuja in Jewel Thief (1967) is one of the film's highlights.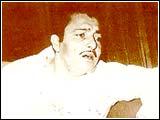 28. Asha has another highly popular seductive number, Parde mein rehne do, in Shikar. The 1968 film, with Shankar-Jaikishen's music, runs more than 50 weeks in Mumbai, and is one of the biggest hits of the 1960s.
29. Raj Kapoor is not on speaking terms with Lata and Asha gets to sing the songs of Mera Naam Joker (1970), including the seductive rain number, Mera ang lag ja. The songs are popular but the movie fails at the box office.
30. The 1970s see Asha reaching dizzying heights. Her song Dum maro dum, composed by R D Burman, in Hare Rama Hare Krishna (1971), becomes a phenomenal hit, running for 40 to 50 weeks. Kishore Kumar says the song is powerful enough to bring a dead person to life.
31. With several hit songs for RD in films like Caravan (1971) and Bombay To Goa (1972), Asha moves closer to the composer. Soon the gossip columns report her relationship with Nayyar is on the rocks.
32. Asha now also sings a few duets with RD, the most popular being Monica, Oh my Darling and Duniya Mein in Caravan and Apna Desh (1972).
33. By the early 1970s, Asha has also proved that she can excel in classical songs. Ravi gets her to sing bhajans and classical melodies in Grihasti and Kaajal.
34. Composers Shankar and Jaikishen are beholden to Lata but they gave Asha some fine numbers too. For instance, the haunting title track of Hare Kaanch Ki Choodiyaan.
35. In 1973, Asha sings some lovely RD compositions, like Chura liya hai tumne in Yaadon Ki Baaraat (1973). Sung with Rafi, the song is still remembered for its infectious melody.
Design: Uday Kuckian