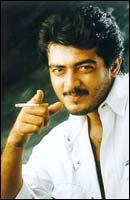 A
t last, success has smiled on Ajith. His Diwali release
Attahasam
has been declared a hit, ending his long drought of hits. For Saran, the director, it has been two hits in quick succession. His last film
Vasool Raja MBBS
, starring Kamal Haasan,
was an unprecedented success.
Having caught the motor-racing bug last year, Ajith spent a lot of time racing in England, besides shooting in Chennai. It was like sailing in two boats at the same time and he could not concentrate on either. Now, he has decided to bid goodbye to racing, and dedicate all his time to acting. His dedication has borne fruit with the success of Attahasam.
In a double role, Ajith has successfully managed to depict both the characters differently. His fans seem to enjoy his performances as the fun loving Guru and the goonda Jeeva. For the first time, Ajith has shown he is good at comedy, a talent hitherto not exploited.
Naturally, excellent offers have started pouring in. The film that he is currently shooting for is K S Ravikumar's Godfather. His heroine is Asin of M Kumaran, s/o Mahalakshmi fame.
The most prestigious offer he has on hand is Bala's next film. The question is, will it fetch him an award? After all, it was Bala who gave Vikram Sethu and Pitamahan, and Soorya, Nanda and Pitamahan. Life has changed for both actors after acting in Bala's films.
Dhanush's Dreams shattered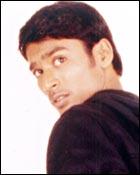 With his
marriage
to Rajnikanth's daughter Aishwarya, 22-year-old Dhanush's life has changed completely; he has been elevated to a status not many young actors can even dream of. But his Diwali release,
Dreams,
which released a week before his wedding, has been a total washout. However, nobody had expected anything great from
Dreams.
This is Dhanush's third flop in a row.
It was Selvaraghavan who exploited Dhanush's talent to the hilt, especially in Kaadal Kondein. One hopes Dhanush's next film, Oru Naal Oru Kanavu, directed by Selvarghavan again, changes his fortunes. Of course, there is also Balu Mahendra's Oru Kana Kaalam, in which Dhanush has reportedly turned in an excellent performance.
Manmadan

rescues Silambarasan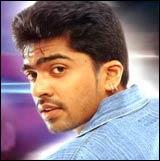 Another Diwali release Manmadan, scripted, acted in and ghost-directed by Silambarasan has also fared very well at the box-office. Like with Ajith, Silambarasan also needed a hit badly, and Manmadan has come to his rescue.
But what has impressed all is his script. It is taut and fast paced with all the mystery elements in the right place. His father, Rajendran, had directed quite a few successful films and one can expect Silambarasan to don the director's mantle soon.
Mohanlal-Mammootty rule Malayalam film industry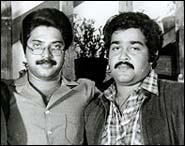 While the Hindi, Tamil and other major film industries look forward to Diwali releases, Kerala looks forward to Ramzan releases, as Diwali is not a big festival there.
Superstars Mohanlal and Mammootty are the big winners this Ramzan. Mohanlal has been criticised often for his new films being rehashes of his old, successful ones and that he has not cared about his appearance. But his films continue to work at the box-office.
Naatturajavu, a rehash of Narasimham and many other Mohanlal films of that genre, is a hit. Balettan, another film which can best be described as a collage of his films, is also a hit. Now comes Mambazhakalam, which is another Balettan.
Unlike Mohanlal, Mammootty still experiments, even after being in the industry for 25 years. In his last film Kazhcha, he acted as a villager, and the film was appreciated. On the other hand, his Ramzan release, Renjith's Black is an action thriller.
The two realistic films that were released during Ramzan, T V Chandran's Kathavaseshan and Kamal's Perumazhakalam were sadly abandoned by the Kerala audience.
Kathavaseshan -- Chandran's first film after Paatham onnu oru vilapam for which Meera Jasmine won the National Award -- is produced by Dileep who also acts in the lead role. Dileep, who had earlier made out-and-out commercial films, decided to produce a T V Chandran film only to win an award, goes the grapevine. But we will have to wait until next year to know whether he can do another Mohanlal, who won wide acclaim and a National Award for his Vaanaprastham.