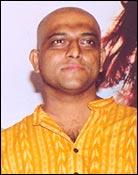 H
e didn't know what Fridays could do.
Till Murder released and became a hit.
"I wasn't half as nervous when Murder released," Anurag Bose said before his film Tumsa Nahin Dekha released last week.
But despite the director's apprehension -- he didn't participate in the publicity of his film because he was so nervous -- the film bombed.
Bose, who has been diagnosed with blood cancer, shares his bitter-sweet experience with Anita Mehta.
| | |
| --- | --- |
| | More on rediff.com! |
| | |
How did you handle a film and your medical condition simultaneously?
A few weeks into the shooting, I was diagnosed with full-blown blood cancer. Many media reports said I directed the film from my hospital bed. But honestly, for over a month, I was completely out of touch with what was happening on the sets.
Maheshji [Bhatt] directed most of the film while I was lying out cold. But I'm happy with the way the film has turned out. He has been kind enough to let me have all the credit for the film. But honestly, I've only made half of it.
What happened when you returned to the sets?
All of them wanted to hug me, but couldn't, because my immunity was very low. They didn't know how to react and had to keep their emotions in check.
But what I can't forget is how everybody within the industry rallied around me. Technicians -- many I don't even know very well -- directors and producers come to donate blood for me. It made me feel like a big part of the industry!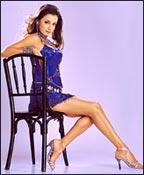 But the box office fate…
It was a very simple film. Making a Murder does not guarantee that my next film will work. Audiences decide whether they like a movie and I worry about their reactions all the time.
I didn't want people to think Tumsa Nahin Dekha was a Murder part II.
Did you have casting issues?
We had cast newcomer Jiah Khan first, but I don't think she was prepared for the hard work that a Hindi film entails.
Eventually, it worked out for the best, because Dia Mirza fits the part perfectly and has done a great job! Even Emraan Hashmi has grown tremendously as an actor.
During Murder, I had to enact every other scene to tell him what I wanted out of his character. With this film, he has matured tremendously and has come into his own.
Which of your three films so far is your favourite?
My parents loved Saaya; and they are my harshest critics.
Even though Murder was my biggest commercial hit, I was very disappointed not to see family audiences till the third day.
What is your future plan?
I want to make something different now. I wrote three scripts while I was in hospital. People I have narrated to liked all of them, so I am waiting to get started!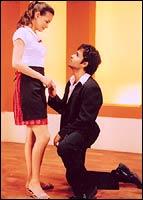 What genre of movie do you enjoy making?
I come from television, where one has to do everything. I've tried my hand at comedy one day, melodrama the next. So, I am absolutely comfortable with almost all genres.
Any stars you would like to work with?
I don't like working with big stars if they don't fit the role, or a script I have written has nothing to offer them.
I would like to make a movie with Ajay Devgun. I really admire his craft and skill.
Any plans of working with Amitabh Bachchan?
I've stopped watching Bachchan films after Toofan and Ajooba. I used to be a big fan, but now I don't watch any of his films.
I want to remember him as the angry young man. Not too many films really exploit his charisma and acting ability to the fullest.
Photograph of Anurag Bose: Pradeep Bandekar