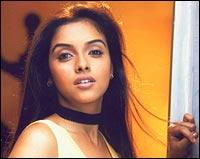 Malayali actress Asin managed to eclipse the hero in A R Murugadoss' Ghajini whenever she appeared on screen, and her work was much appreciated in theatres.
Her first Tamil film to be released, M Kumaran s/o Mahalakshmi, though successful, was described as 'Jeyam' Ravi's film.
The first Tamil film that she shot for was Ullam Ketkume, which released only recently. Though it was a success, the young hero Arya walked away with all the credit.
But her latest release Ghajni went beyond all expectations. It even broke the box-office records set by Anniyan. For the first time, it is not the hero who is being talked about but the heroine -- who dies half-way through the film.
The success of Ghajini apart, Asin will star in two of the most eagerly awaited Diwali releases -- Sivakasi with Vijay and Maja with Vikram.
And this is only one part of her happy state of mind. The actress celebrates her 20th birthday on Wednesday, October 26.
"I will take a break and go home to Kochi to be with my parents. As I am the only child, I am very close to them. For my birthday, I just want to sleep," she says.
"My parents will not bother waking me at midnight to wish me. My friends do that. They call and wake me up at midnight, and bug me. I want my parents to be at my bedside when I wake up. Usually, they kiss me and wish me with a red rose and sweets. They are my best friends. I don't keep anything from them. I know that this will be a great birthday for me!"