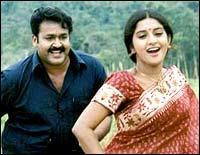 We have to give it to Satyan Anthikad, the common man's director, for making another film that has commoners as its people.
When they got together after a gap of 12 years in Rasathantram, we had doubts if the old magic would resurface. Our doubts evaporated as we sit through first few minutes of the film.
With effortless ease, the director has juxtaposed Mohanlal's current status as a super star with a commoner's role. 

The film's hero, an assistant carpenter, is also an expert in Vastu shastra; interestingly, he can elucidate on any of its theories in Sanskrit. He can be a guide to a teenager trying to memorise a line from her science lessons. It is thereby established that our carpenter is not only expert in his field but also a scholar. Mohanlal does full justice to the character with his spontaneity.
Now, about the story.
The adage old wine in new bottle may be sufficient to summarise the plot. The film has refreshingly repackaged an old plot so that we feel energised and rejuvenated by it.
Premachandran Asari (Mohanlal) is a typically good human being who remains engraved in our minds long after the film is over. He is kind-hearted, do-gooder whose destiny is shaped by circumstances beyond his control. But he still has the ability to spread laughter.
| | |
| --- | --- |
| | More in rediff.com ! |
| | |
The storyline is simple; Premachandran saves a girl, Kanmani, (Meera Jasmine) of Tamil descent, living almost like a slave. Circumstances force her to dress up as a man. Hence ensue hilarious situations till the end of the first half. The film's second half takes off on a different tangent, an emotional drama coalescing the past with the present before culminating in an expected climax.

Basically, Rasathantram is all about chemistry, be it among the lead players or among the various other actors. It is this chemistry that enthralls us.

Mohanlal and Meera Jasmine are paired together for the first time. It will be worthwhile watching them together. They ably spin magic on screen. Mohanlal, though repeating himself for the umpteenth time, pleases.

Meera Jasmine, who has been given the typical damsel-in-distress kind of roles in Malayalam films except for a rare Swapnakoodu or an Achuvinte Amma, where her characters were humorous in the beginning before turning serious, has a completely different task in this film. Here, she starts off as a damsel-in-distress but takes on lighter shades as the film progresses. Though her metamorphosis leaves us dissatisfied in hindsight, she remains a delight to watch. The famed cross-dressing act is the highlight of the movie, the jovial and bubbly act thereafter keeps us interested in the proceedings.

Other duos deserving special mention are Mohanlal and Innocent, and Mohanlal and Bharath Gopi -- the former for its comical interludes; the latter for its sentimental dexterity.

At times, you do feel the film, almost three hourse, is bit stretched and that it loses pace in the second half but never ever you will feel any character or actor is wasted.

Final words: Satyan Anthikad uses different elements that are tried and tested over the ages to give us a solution that is in a fine state of equilibrium.

Rediff Rating: