One of Kannada's most loved actors Dr Rajkumar passed into the ages last week.
rediff.com
takes a look at some of his best movies.
Special: Farewell, Dr Rajkumar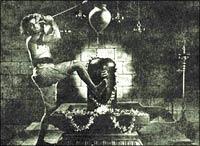 Bedara Kannappa
It introduced the then unknown Mutturaj as Rajkumar in the title role of Kannappa, who donates his eyes to Lord Shiva. The film was directed by H L N Simha, with Phandari Bai as the heroine. Later, she was better known as Raj Amma because she had acted as a mother in many of Dr Raj's films.
| | |
| --- | --- |
| | Rajkumar on rediff.com! |
| | |
Sati Shakthi

Rajkumar began working in different kinds of films. In Sathi Shakthi, he played a double role of a good pious king called Virupaksha and a demon called Rakthaksha. His performance of Rakthaksha was much appreciated. M V Rajamma was the leading lady, and went on to play a mother in many Rajkumar films.

Dr Rajkumar also did a positive and negative role in films like Daari Thappida Maga, which was also appreciated. He did a double role in Bhale Jodi, a full-length comedy. His double role in the mythological film Babruvahana -- where he played the roles of Arjuna and Babruvahana -- was a masterpiece. The dialogues and songs by Hunasooru Krishna Murthy are still remembered.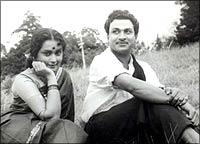 Nandadeepa
In the early 1960s, this was one of his best social films. Rajkumar was teamed up with Harini here. It had a good story line and, through many of the social films released during that period, he established himself as a dependable actor who could manage any role convincingly.
Kasthuri Nivasa
One of the best films released in the Kannada film industry so far. Rajkumar plays the role of a good Samaritan who is prepared to do anything to keep his word, and who lives by charity and helping others. The film was directed by S K Bhagawan and Dorai. Udayashankar had scripted the film and wrote all the songs. With this film, Udayashankar became a top writer in Kannada, forming a useful association with Rajkumar and going on to create more classics in the Kannada film industry.
Kula Gaurava and Shankar Guru
Kula Gaurava was the first film in which Rajkumar did three roles, displaying a tremendous amount of versatility. He did another triple-role in Shankar Guru, as a father and two sons who are separated in childhood. This was possibly the best entertainer released in the late 1970s, creating box office records. It was produced by Rajkumar's own production company.
Sampaththige Savaal
One of the biggest hits of the 1970s, which heralded the entry of Rajkumar as singer and actor. Although he had rendered playback for two films earlier, the song Yaare Koogaadali was a big attraction. His dialogues were fantastic too. The film was based on a popular drama from Northern Karnataka, but it was Rajkumar who carried it on his shoulders.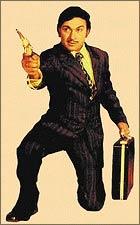 Jedara Bale
Another film with a different kind of role for Rajkumar. He played Bond, which was in vogue during that period. The film started the trend of Bond films in Kannada, and Rajkumar himself starred in two films that were later made. Three films from this category -- Jedara Bale, Goa dalli CID 999 and Operation Diamond Rocket -- were super hits.
Mayura
Rajkumar delivered some great performances in the roles of historical characters. He did the role of Mayura, the first emperor of Karnataka. He also played Immadi Pulikeshir, another great emperor. He played Krishnadevaraya, the greatest king of the Vijayanagar empire, and also took on the title role of Ranadheera Kantterava. All roles were performed with aplomb.
Bhaktha Kumbara
No other actor in India has taken on as many roles of saints. From Tukaram and Manthralaya Raghavendra Swamy, to Bhaktha Kumbara, Bedara Kannappa, Kanakadasa, Purandara dasa, Sarvajna Murthy and many others – he played them all. In the role of Kumbara, Rajkumar delivered yet another award-winning performance.
Jeevana Chaithra
The film that was released in the early 1990s with a lot of expectations. Rajkumar had returned to acting after a gap of nearly five years. The film was based on a novel and shot in the Himalayas and Varanasi. It won many awards, including Best Actor for him. He also did the playback for the song Nadamaya, which won the Best Playback Singer National award.
Gandhada Gudi
His 150th film! The thespian played the role of an honest forest officer fighting the smuggling mafia. Another Kannada legend, Dr Vishnuvardhan, played the role of Rajkumar's younger brother. It was the biggest hit of the period and the song Naavaaduva Nudiye Kannada Nudi was like a national anthem.
Shabdhavedi
Rajkumar's 205th film, and his last. Although it can't be called commendable, it is still memorable because he played a crusader fighting the drug mafia. His performance alone stood out. Much like it had so often in the past.