When he was 8,
Hanif Hum Ghum
got a chance to see Manoj Kumar's 1968 film 
Neelkamal
.
He loved the film so much that he immediately decided to be an actor. It was his dream to act in films, and one day get a break in the Hindi film industry.
The fundamental problem here was that Hanif, born and brought up in Afghanistan, had no clue about Bollywood.
This Friday, his 35 year dream comes true with the release of Kabul Express.
But like every dream, there is a lot behind Hanif's eventual success.
Hum Ghum's father was in the Afghan Army, under late President Najeeb's rule and Hanif had no support from any quarter on improving his skills as an actor, and guidance for his career.
"The actor within me was born the day I saw Neelkamal. I knew I had to be an actor because I was so impressed by that film," recalls Hanif, currently in Mumbai to promote the Kabir Khan film. In Kabul Express, he plays a translator and driver. He acts as guide to leading men John Abraham and Arshad Warsi, who are in search of Taliban leaders.
Growing up as a teenager, he had to convince his family that he wanted to become an actor -- a difficult proposition when everyone else was joining the army. In college, he started acting in plays, and eventually became a professional actor, a profession much looked down upon in the badlands of Afghanistan, a country ravaged by civil war and utter unstability.
The worse was yet to come, with the Taliban taking charge of Afghanistan.
"They banned all form of acting and persecuted people who had to do anything with cinema. Luckily, I was spared in their initial days; they did not pick me up," says Hanif.
However, his luck soon ran out after a Taliban spy came to know that Hanif was an actor and he was keeping some film videotapes.
"One fine day, they came to my home and saw the tapes and I was arrested immediately. I was thrown into prison and I had no idea what the future had in store for me," Hanif remembers.
His presence of mind got him out of the jam. After spending six months in jail, Hanif struck a deal with the Taliban prison guards. "I told them I will sell my house and buy them Kalashnikovs and they agreed. That's how I was freed."
As soon as he came out of prison he fled from Afghanistan to Iran. "Luckily, I got some work in Iran as an actor and I could make ends meet. I started doing television and my serials started doing well," Hanif explains. When American forces drove the Taliban away from Afghanistan it was a big moment for Hanif.
He returned to his country with the hope that he could pursue his acting dream under the new regime of President Hamid Karzai, but found Afghans weren't paying attention to the film business.
Theatres in Afghanistan were shut down completely. Some had even been turned into mosques and there was no question of them being converted back into theatres.
Most Afghan actors took permanent refuge in Iran, Pakistan or any other foreign country.
Finally, the big moment for the Afghanistan film industry came when one of its first films, Osama won the Golden Globe Award in 2003 for best foreign film.
Things started looking up, and after five years Afghanistan is trying hard to come out of the Taliban shadow.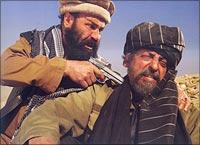 Asked how often women drape themselves in the burqa like they did in the Taliban era, Hanif says, "Today 50% of Afghan women wear burqa, and the other 50% cover their heads and keep their faces open. Things are changing, but at a slow speed."
Even with seven television channels and 20-odd local films, women have a very minor role in Afghanistan's fledgling entertainment industry.
"Most of the actresses in Afghanistan are old and therefore we are short of actresses," says Hanif, "Many families, till this day, don't encourage their women folk to act in films, and therefore we Afghans have to settle down doing only action films without heroines. Women are also scared of acting, because they fear they will endanger their lives from extremist elements within Afghanistan if they act. In Afghanistan therefore a love story is a strict no, because there are no women to act in those kind of films," laughs Hanif.
He is proud to be a part of Kabul Express and feels that if India and its filmmakers encourage films in Afghanistan things will definitely change.
"It was my childhood dream to be a part of Hindi cinema. I am honoured to be a part of the Yash Raj group and this is the best assignment for me as an actor till date. Earlier Afghans always played a small or miniscule role in Hindi films, but I am playing one of the lead roles with actors John Abraham and Arshad Warsi who are great human beings and friends."
"I never had to do audition in Afghanistan, but here I had to go three times," Hanif laughs. "I was even called to Mumbai for a test."
Asked who was Afghanistan's biggest and most popular star, he said, "Shah Rukh Khan." So is there another Shah Rukh Khan in Afghanistan? "No," he clarifies. "It is India's Shah Rukh Khan. We have our own actors but no one can match Shah Rukh Khan's popularity."
Hanif is optimistic about the future of Afghanistan cinema, and feels things are really looking up.
"There are more than a dozen theatres in Afghanistan and many Hindi films run in the theatres. The security is high, but people do venture out to see the films."
He adds, however, "The only problem is that we have very small budget films. Our films don't cost more than Rs 15 lakhs. Our actors and technicians are paid peanuts. Inspite of all these things we are not complaining, because actors are not jobless and everybody earns enough to fill his stomach."
On a concluding note, when asked if he feels the Taliban can ever return to Afghanistan, Hanif looks thoughtful. "I don't think they can come back, but you never know politics is full of uncertainty and I am not a political analyst to predict such answers."