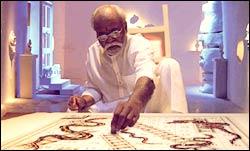 K Balachander is an institution by himself in Tamil cinema, and his filmography -- 100 films in the last 42 years -- is more like a school to an entire generation of actors and directors.
Hundreds of new students were discovered and trained by the schoolmaster, and the most famous among them are the two actors named Kamal Haasan and Rajnikanth, who have dominated the Tamil film industry for more than three decades now.
Balachander's faithful students like to say they belong to the K B family, and one such family member is the National Award-winning actor Prakash Raj. Raj's production company Duet Movies is on a high after the stupendous success of its last production Kanda Naal Muthal, directed by debutante Priya.
| | |
| --- | --- |
| | More on rediff.com! |
| | |
Raj lovingly coaxed his guru to direct a film for Duet Movies, Balachander's 101st film, titled Poi. Actually, Balachander had titled it Ialamai Poigal. When music director Vidyasagar heard of the title, he asked, 'Sir, why don't you have the title as just Poi?'

K B loved the simple Poi.

When Raj planned a big ceremony to launch the music of Poi, K B was against it. But when he was told that his two famous disciples -- Haasan and Rajni -- would be there at the function, he agreed.

What Raj organised was a huge affair. People from Karnataka, Andhra Pradesh and Kerala were brought to Chennai, and the area near the University Centenary Stadium looked as if an election meeting was taking place.

The backdrop of the stage was pasted with stills from all the 101 films K B has directed, and the most prominent was his latest. Naturally, the veteran filmmaker felt "emotional" and "nostalgic".

If the audio launch of Rajni's Chandramukhi was the grandest function of 2005, this one can easily be called the biggest event so far this year for Tamil cinema. The main drawback of the do, though, was its late start and slow pace. The duration of the event really tested the patience of the people.

Though almost all of K B's 'students' -- from Saritha to Geetu Mohandas -- were in attendance, only Jayanthi, Nagesh, Sivakumar, lyricist Valee, Haasan, Rajniknath and Balachander himself were on the dais. Speaker after speaker sang paeans of K B, and finally it was time to release the album.

By then, Vidyasagar, the music composer, had also come on stage. The hero of Poi Uday Kiran, Vimala Raman and Geetu Mohandas brought the audio cassettes. Kiran handed over the tapes to Haasan, who released them by giving a copy to Rajnikanth.

The speeches by Haasan and Rajni were scheduled last -- so nobody left the hall before the ceremony ended. Haasan started by calling his guru a rajarishi (royal saint). Haasan remembered that he was introduced to K B by Gemini Ganesan. "It was entirely he who unearthed my talent and showed it to the world," confessed a grateful Haasan.

The moment Rajnikanth rose to give his speech, the hall burst into applause. In fact, every time the superstar's name was uttered by anyone, it was greeted with thunderous applause. "Like Dronacharya said, it is the guru who selects the shishyas and not the other way round. He [K B] selected us and we are fortunate to be his shishyas," was Rajni's tribute.

Rajni also congratulated Prakash Raj for doing something that he could never do himself -- produce a film for his guru.

By the time the event got over, it was late at night. But you could still see thousands of people sitting patiently inside the premises and even on the road to catch a glimpse of the stars (mainly Rajnikanth) getting into their cars!

Photograph: Sreeram Selvara