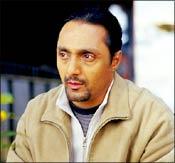 In 15 Park Avenue, I play Joydeep Roy. He's been an advertising executive for 10-12 years. An upper middle-class Bengali; married, with two kids. He left Kolkata, relocated to America, and has just come back.
He used to be in love with Konkana, many years ago. It's a complicated relationship brought to his foreground when he runs into her in Bhutan, where he and his family are on holiday.
'This isn't a Konkana-Rahul film'
He never really gave their relationship closure. There were a lot of issues to be resolved, and he resolves them now. It becomes his moral duty to be trusted by her all over again, to befriend her starting from scratch.
| | |
| --- | --- |
| | More on rediff.com ! |
| | |
This is a difficult task, as her mental condition of schizophrenia is much worse now. And this is something Joydeep hasn't quite been able to come to terms with even in its earlier state. When he is confronted by the past in this manner, a residual feeling of tenderness towards Konkana creeps in.

Joydeep is a man on the horns of a moral dilemma. He is solid and sensitive, but he had run away from the problem once before. This guilt has stayed with him, and has turned into a strong responsibility.

He is an advertising man, but not specifically creative. The challenge was to make this character an interestingly deep one, while it would have been very easy to mess up and make him flat and wooden.

The character epitomises the cons of the situation. We were in love and I was driven away by her condition, by not being able to deal with her schizophrenia. This is because of a lack of knowledge, and a lot of us are guilty simply because we happen to be unaware.

'I don't have any advantages being Aparna Sen's daughter'

When Joydeep begins to understand what Konkana goes through, his reaction is one of discomfort, because he is faced with something unusual, something he in unfamiliar with. Now, when he meets her again, the overwhelming feeling is of guilt, because he realises that Konkana is somebody he could have carried through, but didn't.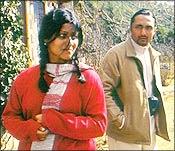 15 Park Avenue is a mythical address. It is where Konkana believes she and our family live. This reality doesn't coexist with what we believe, which brings us to the crux of this powerful script: who among us is sane? We are all mental refugees, and who gives one more rights than the other?
As a director, Aparna has a deep understanding of problems revolving around human relations. She looks beyond the obvious, ignoring the superficial aspects of the film. This script brings mental baggage to the table, and her work in the overall process is akin to a prism in synthesising everything together.
She is a very flexible director, and has given us all a free hand in the workshop stages. She is very specific about what she wants to see and what she wants to avoid, and knows her characters inside out. The important thing is that while she knows what she wants down to every detail, she lets her actors get there on their own.
She has very high standards. I don't believe Aparna Sen can ever do a film without very good actors. But that's the thing – she's Aparna Sen, for God's sake, and really never needs to worry about that. She's assembled a very formidable cast.
Don't miss: Aparna, Shabana, Waheeda, Konkona and me!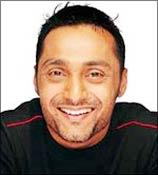 Shooting in Bhutan was unbelievable. It might just be the most beautiful country I have ever been to. The people are an absolute treat: they are non-aggressive, seem incredibly content, and have a great rhythm and cadence to their movements. This could perhaps be attributed to the fact that it's a largely Buddhist country. They are an incredibly tolerant people. Another thing paramount to me is the fact that women are respected here. They are stunning in physical beauty, but it is amazing to see their natural calm.
I love the hills. I grew up in a house in Kasauli, up north [in Himachal Pradesh], and the hills were always my refuge. Going to them is what I do.
In Paro Valley, I hiked up to the Drugal Zong, a shattered monastery up in the hills. It's mindblowing. A monastery at 10,000 feet is popularly called Tiger's Nest, and it's such a sight – stuck on a steep, stark cliff. It's literally stuck there! It's an impossible, beautiful sight. I meditated there for half an hour. People from all over the world come to see Tiger's Nest, it's quite extraordinary.
It was my first trip there, but I'm sure it's not going to be my last.
As told to Raja Sen