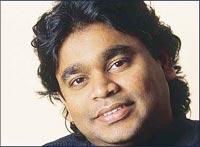 People often wake up in the middle of the night if jolted by a nightmare. But when A R Rahman suddenly woke up from one of his power naps a few months ago, he was humming a tune.
"I had to write it down immediately," he says, "I was afraid I might forget it."
When he later played the tune to director Rakeysh Omprakash Mehra, who was in Chennai for the Rang De Basanti recordings, Mehra insisted he wanted the tune for his film. "I told him I thought there was no scope for this kind of song in his film," Rahman says, chuckling, "but he said he would create the situation. I thought, well, it's his headache."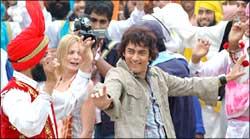 The tune went on to become Tu Bin Bathaiye, the sensuous, lingering number sung by Madhushree and Naresh Iyer.
"Virtually every song in this film has an interesting history to it," says Rahman, adding that, after a long time, he had an opportunity to create a wide variety of tunes. "Besides, the songs are also used to carry the story forward."
In Toronto to finalise the score for the most expensive musical ever, The Lord Of The Rings, the composer discussed a wide range of topics in an interview by telephone, from the creation of some of his most memorable songs in RDB to his continuing association with Subhash Ghai and his strained relationship with Deepa Mehta (Water). "She is a lovely person, but I don't know whether we will work together," says Rahman, who decided to opt out of Water over four years ago because it had become too controversial.
| | |
| --- | --- |
| | Don't Miss! |
| | |
"I don't think there was any need for a controversy," he says with a deep sigh, "but some people made it controversial. I did not want to continue to be associated with the film." But he also acknowledges that the movie has some of his finest songs. Though he dropped out, Deepa Mehta insisted he see the film before it opened at the Toronto International Film Festival in September. "It was beautiful," he says.
Rahman is currently working on the music of The Lord of the Rings not too far from Mehta's office in Toronto. He admires her conviction and passion, he says. The $26 million musical extravaganza opens in Toronto in a few weeks, to be followed in a few months by a British edition in London, then a Broadway edition. With some luck, Bombay Dreams will also be touring American and Canadian cities soon.
He is working with a Finnish folk group for The Lord of the Rings, and says that those familiar with the novels and hugely popular movies that have inspired the musical know what to expect musically. "And to those getting to know the show, I would say don't expect Shakalaka Baby or Chaiya Chaiya," he adds.
While the Bombay Dreams score comprised original as well as re-worked music from some of his Bollywood hits, the experience of working for The Lord of the Rings is unique, he continues. "With Bombay Dreams, I felt I was extending what I had been doing in Hindi and Tamil films," he says. "Here, I am creating something that isn't anywhere close to anything I have done so far."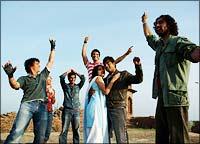 There are also many things he has done for RDB that are new to him. For one thing, he says he had "the audacity, if you will" to join Lata Mangeshkar for a song. "The song has a long and complicated history," he says. "I felt, several times, that I was not going to have it in her voice, but I didn't want to give up."
When a song in which a soldier's mother is featured arose, he thought of a situation from one of his favourite films, the Tom Cruise-starring war drama Fourth Of July. "I kept thinking the song should be very different from the kind of mother-child songs we generally hear in our films," he continues. "At one point, I thought, how about getting the dead son to respond to the mother?" he remembers.
Mehra and lyricist Prasoon Joshi loved the idea, he continues. But, after many months, he heard that many others associated with the film had their reservations, wondering if such a song could work. "Then came the question of who would sing it," he adds. "I knew who would be singing it -- the mother of all singers, Lataji."
When the date for recording was fixed, Mangeshkar was ill. And months later, when a second date was being arranged, he heard that she had to attend an event organised by Yash Chopra. Rahman told her there would not be another opportunity for her to record the song. "I was also going abroad in a few days," he continues. "She made a big sacrifice and cancelled the event."
Rahman also revealed that, as per original plans, Mangeshkar had only a few lines. "But she was singing it so beautifully, and she had made this big effort to record it," he continues, "that we decided to expand her contribution."
Mangeshkar has sung just about half a dozen songs for Rahman. "But every time I have worked with her, I have felt we were doing something truly special." Besides, she has also paid him the "highest compliment," he says. "She told me she liked my version of Vande Mataram better than her own!" No one could pay him a better compliment, the composer adds.
The soundtrack of RDB also has several other lilting numbers, especially the Rubaroo item song by newcomer Naresh Iyer. Rahman had heard Naresh at a contest organised by Adnan Sami. He remembers that though Naresh did not win, he had left a strong impression on him. "I often tell myself that music is not a race," Rahman says. "And when Naresh lost by a few points, I said to myself that we should not let him go. I knew he was talented and wanted to give him an opportunity."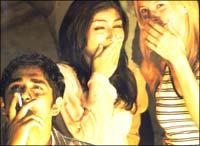 Rahman says he asked the 24-year old singer if he was prepared to come down from Mumbai to Chennai and stay put for several months. "I knew how serious he was when he turned up with his parents in no time," the composer adds. "They had got him to stay in a house near my studio, and brought him to me saying 'Now you are in charge of him.'"
Iyer was available for Rahman at any time, night or day. So much so that when Rahman was too tired to sing the Rubaroo number, he got it sung by his new protégé. "I had planned to sing the song later," Rahman continues. "But Naresh had sung it so well, I decided to keep his version. That is why you hear me sing only a few lines with him."
Besides, he says laughing, he would not have  felt comfortable saying the words, Ai Salaa.
Now that RDB is behind him, Rahman says it will be many months before one gets another Hindi movie score from him. He is looking forward to working again with some of the producers and directors who understand him well, he adds, one of whom is Subhash Ghai. "I composed just one song (apart from the background music) for Kisna because of other engagements abroad," he says.
When Ghai was in New York a few months ago, he had said that he too was looking forward to working with Rahman, adding, "We challenge each other so much that there is always extraordinary music."
Rahman returns the compliment. "His passion for music is just great," he says.