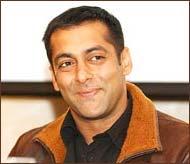 There's a new maturity about Salman Khan, one that goes beyond the jetlagged sleep-deprivation and which energetic exertions on stage can't quite veil.
"Hey, what do you expect; I'm 40 years old," Salman says, laughing.

Salman, in the US to attend a series of concerts, dubbed Rockstars 2006, cannot quite leave his problems in India behind, though he says he's trying.
Salman Khan's Rockstar concert
| | |
| --- | --- |
| | More on rediff.com! |
| | |
After his
press conference
in the US, his friends told him he looked uncommonly serious. So now he makes an effort to behave the way he used to.
"Whatever my personal stuff is, is different. I try to snap out of it now. It shouldn't bother my fans. They have to get their money's worth. The mission should be accomplished," he says.
But when alone, he still has to consider what lies ahead, particularly a case from 1998 in which he allegedly shot protected blackbuck in Jaipur, Rajasthan
, and one, in 2002, in which he is accused of having run over and
killed
a pavement dweller in Mumbai.
He is getting an unfair deal from both the police and the media, he says, asserting that though he is resentful of the people who put him into this position, it is the stress it causes the family that upsets him the most.
"What a lot of trouble they've gone through because of me," he says. "Even if I'm in jail and they know about it -- I may be okay there -- but what may be going on in their minds, thinking about what I'm going through..." he trails off.

But he still speaks resentfully of the blackbuck case, for which he spent three days of a five-year term in jail before getting out on bail after his mother was hospitalised.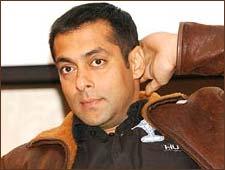 "They took her to hospital. She had a small heart attack. They didn't tell me about it in jail. It is because of what happened to her... The person who did that to me, I will never be able to forgive (him)," says Salman.
The police found two dead blackbuck at the time. "The first post mortem said the first animal died of overeating; the other jumped over a wall and was eaten by a dog," says Salman. The second post mortem, conducted after 10 days, concluded the animals could have died of gunshots.

"1972 till now, only one conviction -- mine," says Salman.
It is not the only case but it is certainly the harshest sentence for such an offence, legal experts in India such as Mahesh Jethmalani have agreed.

"My fans have stood outside the jail. They won't let it go. I have respect for the fans. Kids, mothers, grandmothers, People giving out food, water." He says he thought the crowds would ebb after a few days but it only grew.

"The police told me they had never seen anything like this. The reason I've not taken a stand is that these people (his accusers) have families. Harish Dulari (the driver who provided the clinching testimony) makes about Rs 750 a month."

So he'd actually chance going to jail to save the lives of those who put him in?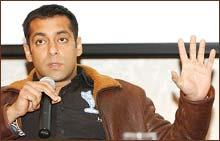 "That's the way I've been brought up, dude," he responds.

About the case involving the running over of pavement dweller Noor Ullah Khan, Salman says he has to pass the site of the accident -- which is close to his home -- thrice a day. He says the police are not willing to hear anything that can clear him. Worse for him, he says, his niece Alizeh had to explain to friends and tormenters at school what had happened.

Stepping away from his problems at home, Salman says he's been having a great time touring the US. "It's really a good concert. The response is fantastic. The audience is enjoying every second. I've never seen a response like this. It doesn't stop."

He's been practicing in a way he hasn't in a long time, and has actually sang a song on stage. "You have no idea how off I sound," he says, laughing.
Photographs: Paresh Gandhi