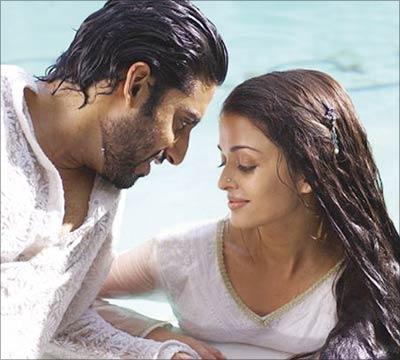 The marriage of top Bollywood stars Abhishek Bachchan and Aishwarya Rai is certain to take place in February 2007, according to Bachchan family astrologer Chandrashekhara Swamiji.
He has revealed this news to highly circulated Kannada newspaper Vijayakarnataka.
Swamiji, who lives in his ashram in Bangalore's RT Nagar, is astrologer to many film personalities including Dr Raj Kumar's family and producer Rockline Venkatesh. According to sources, Aishwarya and Abhishek visited the Swami several times during the Karnataka schedule of their film Guru, directed by Mani Ratnam.
The film was shot in Hospet and several places in Northern Karnataka, and the couple visited the Swamiji to consult him on many matters, including a probable marriage date. The Swami is believed to have scrutinised the celestial birthday Jathakas of the couple before giving them his advice.
Chandrashekhara Swamiji has been in regular contact with the Bachchans. He has reportedly also conducted havans and poojas for the family's well being. Apparently, Amitabh and Jaya Bachchan also visited the ashram a year ago.
Swamiji has revealed that Aishwarya will probably make an announcement of her marriage on November 1, her birthday. According to the report, Aishwarya (born in Dhanu Rashi) and Abhishek (born in Kumbha Rashi) could have had some problems. The marriage was likely to face roadblocks in 2006, the astrologer had felt.
But, from October 27, when the planetary positions change, both Ash and Abhi will have the support of Jupiter (Guru-bruhaspathi).
The Swami, who has closely studied Ash's Jathaka, feels that the number eight is not compatible for her and marriage in 2006 -- which adds up to 8 -- would have led to trouble for the couple. 'That is why I advised them to marry in 2007,' he explains, 'which adds up to 9, a lucky number for both Aishwarya and Abhishek.'
Text: RG Vijayasarathy