Nagesh Kukunoor's Iqbal catapulted Shreyas Talpade to fame. The film, which saw him as a deaf and mute aspiring cricketer, received much critical and commercial acclaim.
But Shreyas did not go on a signing spree.
One of the few films he did sign was Kukunoor's next, called Dor.
Shreyas plays behrupia (man with many disguises) along with Gul Panag and Ayesha Takia. He talks to Priyanka Jain about this film.
You are wearing dhoti-kurta and colourful turbans in the promos of Dor. Tell us about your look. And your character.
I play a behrupia, who helps Gul meet Ayesha. Gul plays Zeenat, an independent woman from Himachal Pradesh, who is ready to face any storm in order to save her husband's life.
On the other hand, Ayesha's character Meera is a traditional Rajput girl who accepts life without questioning anything. The film is about how they reach their final destination, the people they meet and the events that happen during the journey.
Nagesh wanted me to sport a look that people of the behrupia community sport in Rajasthan. I learned to drape the dhoti-kurta, colourful turbans and dupattas from the locals there. The huge moustache completes the look. This community in Rajasthan is quite interesting. They travel from place to place, meet people and entertain them.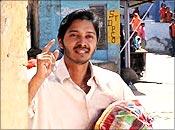 What was like shooting in the palaces of Rajasthan?
We shot in and around Jodhpur and in some parts of Himachal Pradesh in March and April. The temperature was above 45 degrees most of the time. Though the locations were fantastic, the heat was unbearable. We would shoot for 12-14 hours and during the breaks sit in our vanity vans. I marvel at the way the crew worked. They would be out in the sun all the time.
Most of the old palaces in Rajasthan have been converted into hotels. We stayed at a palace resort called Manwar, where the owner himself would cook for us. We also stayed at a palace resort in Pokhran and shot at Mehrangarh Fort in Jodhpur. I loved the food there. Dalbati, Ganthiya, mutton... My wife shopped for kurtas and mojdis for me.
Tell us about your costars Gul and Ayesha.
Gul and Ayesha are very hardworking, intelligent, bubbly and chirpy women. They would discuss and rehearse four to five times before each shot. Gul and I would chat a lot. I had few sequences with Ayesha.
How has life changed professionally for you after Iqbal?
Iqbal brought me recognition. After Iqbal, people had difficulty slotting me in a particular genre. That worked in my favour. Since I could not be slotted, people offered me a variety of roles. So you will see me playing a comic hero in Apna Sapna Money Money; a political leader in Manish Tiwari's Love Story; and a (person suffering) from muscular dystrophy (a medical condition with skeletal muscle weakness) in Krishnakant Pandya's Mein Phir Aaonga.
I couldn't have asked for more. People have recognised my potential, visualised me in different ways and given me varied roles.
After Iqbal, I was not in a hurry to sign films. I became responsible to the kind of films I signed. Until then, I was very carefree. Now, I am cautious.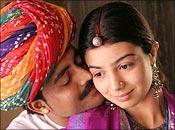 What have you learnt from your experiences of working with different directors? What do you look for before signing a film?
I have worked with Nagesh Kukunoor, Manish Tiwari and Prakash Jha, and all of them are different schools of learning. They have their individual style of working and I am constantly learning from them.
I look at four things before signing a film -- the story, my role, the director and the production house. Eventually, I follow my gut instinct on whether I want to do the film or not.
You were to play M F Hussain just after Iqbal. What is happening to that project?
As far as I know, it is still on paper. We were supposed to start shooting last December. Then I heard it was March, then May and then September. They said there was a script issue. I don't know what the current status is. I have not been informed that the film is shelved, so I assume it's still on.
You are working with Nagesh for the second time.
After Iqbal, we shared a good bond. One day, he told me that you are a good friend and actor but that does not mean that you will be there in all my films. Only if I have a character suitable for you and I think you will do justice to it, then I will offer it to you. So when he offered me Dor, it was quite a high.
If we had attained level 10 compatibility during Iqbal, we started from level 11 for Dor. I knew Nagesh's working style, what he wants in an actor, how he wants me to portray and prepare for a character. He knows my strengths and weaknesses.
The way he handled the characters of Behrupia and Iqbal were different. Behrupia is more mature and confidant.