Laxmikant-Pyarelal made songs that youngsters hum even today. Numbers like Om shanti om, Darde dil (Karz), Hansta hua noorani chehra (Parasmani) and Jumma Chumma (Hum) are played on the radio even today.
After Laxmikant died in 1998, Pyarelal stopped making music and retired from the limelight.
Now, after almost a decade, the famed music composer is back doing what he does best -- making beautiful music. He's been approached to compose music for two films -- Farah Khan's Om Shanti Om, starring Shah Rukh Khan, and a Subhash Ghai film.
"Vishal-Shekhar came to me; they wanted LP's music," Pyarelal said. "They wanted me to do just one song -- the type of music that was played in the 1970s; a retro song. They had made the tune but wanted the LP trademark in it."
"One of the reasons I accepted their offer was the importance given to acoustic instruments," the composer continued. "There is nothing electronic in this song."
Hard times
For Pyarelal, the journey from his childhood to where he is now has not been easy.
Born on September 3, 1940, Pyarelal lost his mother at an early age. His father Pandit Ramprasad played the trumpet but wanted his son to learn the violin.
He still remembered the times his father would take him to people's homes whenever he needed money. Pyarelal's innocent face always drew sympathy. One day, his father took him to Lata Mangeshkar's home, and she gave them Rs 500, a big amount at that time.
Pyarelal, who started training at the age of eight, would practice for ten hours every day. At the age of 12, he got a job at Mumbai's Ranjit studio as a violinist in an orchestra. He would get Rs 85 a month, and soon became the bread winner of the family.
He enrolled into a night school but when he was in the seventh grade, he could not afford the Rs 3 monthly fee. So he left the school.
From a young age, Pyarelal was very ambitious. He wanted to make a name for himself and wanted to travel to different countries. He liked western music as well.

"I joined a group called Madrigal singers to learn music. But I was not treated well, as I was a Hindu. Only Parsees and Christians were given a chance. I was allowed to play in rehearsals but not in concerts. But I had to learn so I stuck around," he said.
"My father would felt bad about the treatment I got. So he decided to teach music to street children free of cost. He would actually pick up kids and beggars and bring them home. He must have taught around 1,500 children. He would take them to well-known musicians like Naushad," Pyarelal recalled.
Another person who taught him violin was his guru Anthony Gonsalves, on whom he later composed a song, My name is Anthony Gonsalves in Amar Akbar Anthony.
Lifelong friendship
It was at the Ranjit studio that Pyarelal met his lifelong companion Laxmikant.

"Laxmikant was working with Pandit Husnlal Bhagatram. He was three years older to me. He would come sometimes to my place of work. After work, we would play cricket and discuss music. As we were from the same age group and our interests were similar, our friendship grew," he said.
Pyarelal still has not forgotten their first big pay packet together.
"Sriramchandraji called me one day and told me he will give me good work. I told Laxmi about it. We worked together in Chennai for two and a half years on the film Devtaa starring Gemini Ganesan, Savitri and Vyjayantimala. That was the first time I saw Rs 6,000. I bought a gold ring worth Rs 1,200 for my father," he beamed.
Pyarelal worked with almost every music composer except Shankar-Jaikishan and O P Nayyar. To this day, he wondered why they never called Laxmikant-Pyarelal despite Pyarelal once having played the violin in Shankar-Jaikishan's office.
No differences
On speculations that Laxmikant was in charge of the artistic end while he took care of the business aspect, Pyarelal has this to say: "We would prepare a tune each and select the better of the two in the studio. Sometimes, we would sit together and make tunes; sometimes we thought of tunes from home that turned out to be similar.
"Laxmi and me never made our differences in public. We would sort it out when we were alone. He was a better businessman than me. I was very short-tempered like my father. He would treat me with lots of love and care. I always think that the song Ek pyaar ka nagama hai from Shor is based on our life.
"Moreover, people often thought that Laxmikant Pyarelal was one name. When I was getting married, my wife's relatives believed she was getting married to Laxmikant Pyarelal. Just Pyarelal did not mean anything to them," he laughed.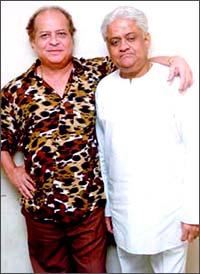 Big break
Now that he was on his way to become the big man he dreamt to be, Pyarelal wanted to go to Vienna to join the Symphony Orchestra.

"I was a big fan of Yehudi Menuhin. I was so mad after him that I would wait in the crowds when he would come out from his concert and touch his feet when he is walking through the crowd. My dream was to settle abroad, marry an English woman and leave India permanently," he says.

"But Laxmi convinced me to stay back. Raj (Kapoor) sahib once told Laxmi: You did two good things -- you gave good music and you did not allow Pyare to go. Raj sahib loved me a lot," he added.
When Pyarelal turned 20, the duo got their first film Hum Tum Aur Woh. But it never got released. Their next three films suffered the same fate. Their work was finally noticed and appreciated in their fifth movie, Parasmani. Their next film, Dosti, was a huge hit.
"During those days, you had to purchase a coupon to select a movie for a Filmfare award. One who can purchase most coupons could win the award. When Dosti was nominated, the other two films in contention were Sangam (Shankar-Jaikishan) and Woh Kaun Thi (Madan Mohan). But to our surprise, our film got the award," he said.
Though Pyarelal gives Lata Mangeshkar the credit for their success, he dispels notions that they got their first break because of her.
"Actually, Lataji helped Laxmi get work with Pandit Husnlal Bhagatram. But she did not recommend our name to any producer or director. Of course, we would ask only Lataji to sing the women's songs. We were a great admirer of her talent. Our only regret was Lataji could not sing in male voice!" he laughed.

"Lataji is versatile. Give her anything she would transform it into magic. She would never refuse to give us a date. She even worked in our low budget movies. I would stay at Lataji's house if it got too late at work. I would sleep on a sofa in the living room. I was a good friend of Balasaheb (Hridyanath Mangeshkar, Lata's brother)," he said.
Favourite singer
For Pyarelal, there is no better male singer than Mohammad Rafi. Kishore Kumar came a close second.

"My father had once taken me to Rafi sahib's house to ask for money during our bad times," he said. "When I became a composer, I worked with Rafi sahib and Lataji on the song Yeh dil tum bin lagta nahi hum kya kare. I remembered that I had to give Rs 500 to both of them. Rafi sahib didn't recall giving me money, Lataji did. But they told me to keep the money as their blessing for me.
"Kishore Kumar would play pranks on everyone except us. As he entered the studio, he would sing hello Laxmikantam Pyarelalam. He always said that my biggest minus point is that I have a brother like Ashok Kumar. He is so talented," he said.
"We assisted R D Burman in Bhoot Bangla and Chote Nawab. We would compete professionally but in our personal life, we were friends. Once we were using James Bond music in Farz and R D was using the same music in Jewel Thief. When he came to know that we had already recorded five or six reels using the tune, he immediately cancelled it from his movie.

"I remember just before his death, we met at a wedding. He asked me if I had whisky. I told him I had some in my car. So we all drove around and drank whiskey. Laxmi and I were jobless then. R D told us that he had given music for a new movie, 1942 A Love Story. He said we would like the music. But he died before the release of the film. I get sentimental every time I hear the songs of that movie," Pyarelal said.
Another person about whom Pyarelal does not fail to mention is composer Madan Mohan.
"I would always fool around with Madan Mohan though he was very senior to me. I would take down his musical notes and irritate him. But he would never say anything. One day, I arrived at 11 am for a 9 am recording. He scolded me in front of everybody. It was my mistake but still I walked out, and did not return for two days. On the second day, he called me and said that he would come and beat me if I did not come for recording. But instead of apologising, I said I wouldn't come. Next day, his assistant called me and after much coaxing I relented. There was a lot of love between musicians, composers, and technicians... something you won't see today," he lamented.
Changing times
The veteran composer believes that copying music is common and that they tried to adapt to changing trends.
"There was a lot of pressure from actors and producers. For instance, the song Jumma chumma was in the movie Hum just because of the pressure from Amitabh Bachchan. Out of the 500 odd movies that we have done, we must have copied 50 songs because of pressure.
"We worked with various producers and directors but our favourite was Subhash Ghai. We got an award for Om shanti om from Karz," he says.
Laxmikant's demise did have its effect on Pyarelal but he was not disheartened. He was determined to recreate the magic they had weaved for decades.

"I never thought my right hand has gone; what would I do without him. I was strong enough. But I fell sick after his death. I used to drink a lot and chew tobacco. I was in bed for six years. Since then, I have given up alcohol. Now I am fine and work for six hours everyday. Within the next two years, you will again see Laxmikant-Pyarelal's name on big screen again," he said.
We're waiting, Mr Pyarelal. Very eagerly.