It's not everyday one gets to have a long chat with Mani Ratnam. But when one does, it's always interesting. The director discussed his movies and much more with Maria Giovanna.
How did the concept for Nayagan come to you?
I had done it as an outline for a different producer. It was just an idea, I didn't go beyond it. Later, when the opportunity came, I drew up in a full script. It's loosely based on a real-life character based in Mumbai (Varadarajan Mudaliar). 
Have you ever met him?
Yes, I have.
After the film was made?
No, before the film was done. I was doing research in Mumbai. We scouted locations, and when I came back, he was here, in Chennai. So he called me. He had heard that somebody was trying to do a story. He was a little apprehensive. We had to go meet.
What was his reaction?
Actually, it was very strange. We showed the film to him because Kamal Haasan knew him. He came to watch the film but he had his security with him. He said they were his friends. I didn't want to listen to any 'yes' or 'no', I just wanted to get the film done.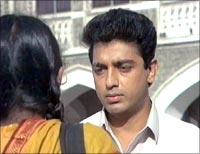 He saw it the day before it was released, and he told me a strange thing at the end of the film. He said that he was not that nice a person like what was shown in the film. But he said, 'It's good that you're saying that somebody can be that good.' It was his way of saying it is okay.
The song that's repeated in the film is quite sad. How do you incorporate music in a film? Do you hear a song, then decide that it doesn't feel right or if it's good but can be changed to a certain degree. How do you work? 
It works like it does with every other technician. You know your story and you've got to get what you can, what you feel is right, there's no logic to some things, just instinct. I told the music director, Ilaiyaaraja, the outline of the film. This was the first composition he did. When I finished the narration, the first tune he did was this theme song and it just came out right on. Sometimes, you know, you hear the first few phrases and you know it sounds right. 
Are you very musical yourself?
I think it's just instinct. Probably if I knew more music, I'd be in trouble. I don't know what's not right, so I just say 'No, shall we try something else?' You just have to take them in a different direction. I'm a listener more than anything else.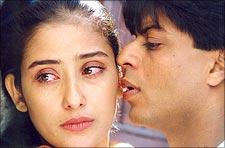 Why did you choose Shah Rukh Khan for Dil Se?
It was just a feeling. I hadn't seen too many of his films before. You feel that you want somebody who would be a common man, who would represent All India Radio, which is the voice of the ordinary citizen, and still be able to carry the film on his shoulders. I needed somebody who would take us across the line. It was a difficult subject, it was the 50th year of Indian Independence but there are corners which still have darker areas. We tried to cover it and this film was trying to explore into the gray thing. And we wanted this happy mood to control that side of it. So he somewhere represented that kind of mood.
When you were picturing the film in your head, were you seeing it always with him in the role?
Not really. I don't think you see it 100 percent with a particular actor in mind. To be honest, I was working on another script with him, the Tamil film, Alai Payuthey. It was done in Hindi by my friend and assistant, Shaad Ali, as Saathiya later. So I was working on that script with Shah Rukh, and I told him the outline, which is just a simple city-based love story. But the script didn't fall fully into place so we moved to something else. So I was thinking of Shah Rukh for Aley Payuthey, and I ended up doing it with totally new people.
There's a scene in Dil Se where he's talking to Manisha Koirala in the sound studio, and the door keeps swinging and the light keeps coming on and off. Who do you give credit to for that scene? Was it in your mind?
The scene was meant to take place in a lift -- you have moments of privacy and moments of invasion. But when we went for the shoot the day before, the place didn't have an elevator. So we just converted that threshold into another threshold that was a song studio and a doorway, and there were people moving in and out, they'd be caught in the threshold of the thing and then we added both sound and light, which would come and go. You'd hear bits of music and it would get shut off totally. You'd hear silence but see light and then it goes away. It was a kind of private moment in a public space.
Was that the first time you ever filmed in Ladakh?
Yes.
Had you been there previously?
Yeah.
When you were there, did you say 'I'd love to shoot here some day'?
Yeah, I think I've always seen pictures, one has heard, people have gone there and come back.  When I did Roja, I'd gone to Ladakh. I'd gone with the same cameraman, Santosh Shivan. It's a stunning place, though this was in fact a liberty that we took. Ladakh is not really geographically the place where the story is set, you know. But we took the border, any border state would represent the same kind of atmosphere here in India, whether it's in the Northeast or in Punjab, you know borders were still areas which were not yet fully concentrated on by the government. They're not vote banks so we don't pay too much attention, so we took a liberty to push it to that.
Was it difficult shooting in Ladakh?
We started the film there. It was not that difficult.
It was difficult because you had to get used to the altitude. So we had to give everybody a 48-hour break-in period to get acclimatised. And with people like Shah Rukh and Santosh, I mean, this guy smokes all the time. You wonder where he gets his oxygen from.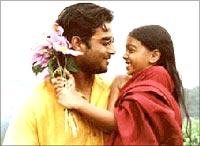 How did the concept come to you for Kannathil Muthamittal?
See, this is like a backyard/frontyard, whichever way you look at it. It's been happening here for 20 years. We had been seeing it from a distance on a day-to-day basis. There was a time that it was in the newspapers everyday. A lot of Tamil literature and poetry have come out of Sri Lanka during these 20 years or so. So it's always been there. Once we had that story, which came out in an article in Time magazine, it was about an adopted child but not in Sri Lanka. But the emotions are the same and it gave us the vehicle to get into Sri Lanka through that.
The English translations of the lyrics of the father's and mother's versions of the title song, to me, seem exceedingly beautiful. Is that your sense of the Tamil also?
I think it's also because it is to do with this strange bond between the Tamils here and the Tamils there. I think language bonds them, sometimes it's not logical, it's an emotional thing. So the lyricist, Vairamuthu, is someone bound very strongly in that sense, so this gave him an opportunity to express it, to cry somebody else's agony. It was his, we just did the tune and he came back after four hours with this written down. Normally the music director, lyricist and I work as a team. We all have inputs. But this was one of those things that just fell into place. He's probably one of the best lyricists India has at this point in time.
How did the choice of Simran for the mother's role happen?
To be honest, she was supposed to do the Preity Zinta role in Dil Se. We did a test with her too. But she was a big star in the South and the dates didn't fall into place. She was doing glamorous roles but she was ready to try something different -- to be a mother of two, to play an emotional role. So, sometimes it's good to cast against the grain. The character comes through beyond the person, otherwise if you cast someone who is used to doing that role, somehow it gets lost.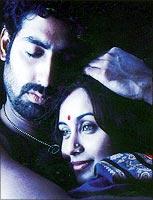 Why did you choose Abhishek Bachchan for the role of Lallan in Yuva?
Like I told you, sometimes it's good to cast against the grain.
Up until then, he had not had a very good run of films.
Not just that, he was doing all these goody-goody roles. It was an experiment, which could have fallen flat. Both if us took the risk, you know. But when it works out, it comes out really fresh. He had to work hard. It's very different from his background and his upbringing -- we had to work hard to get the language, body language, to get a feel of it.
Why did you set the story in Kolkata?   
The thing is, it has students and it has politics. The only two places in the North that has the awareness in the metros are Delhi and Kolkata, where both the student movement and the political awareness are very strong. Mumbai doesn't have that. And everybody shoots in Mumbai.
With Guru, the shot where Aishwarya and Abhishek are separated by the tram just before she returns to her family's home, had you originally planned to shoot it that way, or had that evolved during filming?
It's a shot we almost took out. It's really easy to write that. It's a cliché. So it's very tempting. But we kept it (laughs). We kept it because the song was next, so it kind of placed them together. I'm still conscious of that shot. It looks easy and convenient (laughs).
Can you talk about working with cinematographer Rajiv Menon on this film?
I've worked with him on the film Bombay before. He's a friend. I have been very lucky. I've had cinematographers who are not just interested in cinematography, they're interested in the film, the performances, the story-telling... They've all been like that, and that's a huge advantage. The Director of Photography is your closest bouncing board. You bounce a new way of staging a scene, a new dialogue, and he's your judge, watching through the camera. And you trust his judgment. So to me, it really is a collaborative thing. 
He's a great guy to work with, he's constantly learning and exploring. He comes from a different background in the sense that he's into commercials. He does that a lot, so it brings in a certain other discipline that we are not used to. I think the crossing is quite frequent these days but initially, it brings in new thoughts into mainstream filmmaking.
You've worked with Prakash Raj several times. How long have you known him? What is he like to work with?
He did a small role for me in Bombay. He did Iruvar. That's about two people, so he had a substantial role in it. I think he won the National Award for it. He works very hard if you want him to.