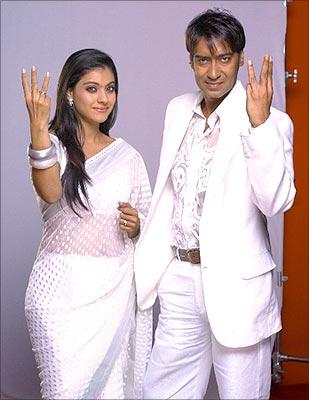 Get ready to Rock n Roll!
After delighting viewers with the popular music competition, Sa Re Ga Ma Pa on Zee TV, the makers of the show have come up with a new competition -- dance, which will have Bollywood stars Ajay Devgan, his wife Kajol and mother-in-law Tanuja as judges.
This is the first time that the trio is appearing in a reality show on television. Sharad Kelkar of Saat Phere will host the show, which goes on air from March 14 at 10 pm.
Titled Rock n Roll, the new show which will replace Sa Re Ga Ma Pa is a family dance competition in which three generations of a family can participate as a team.
Says Ajay, "If you look at most reality shows on television, it's the third generation that is most neglected. I'm glad that finally here's a show that will cater to everyone. That's what brings me here."
Echoing her husband's sentiments, Kajol says, "I feel very good being the jury member. Nowadays when we switch on the TV, we see only Saas bahus fighting on most shows. There is so much negativity, whereas this is one show which is positive. You will not see any fights."
As what would be the yardstick to judge the show, Ajay says, "It all depends on co-ordination, performance and entertainment."
Kajol quickly adds, "10 marks definitely for enthusiasm."
Asked if the judges have danced as a family, Ajay says, "Our daughter (Nysa) makes all of us dance almost everyday, sometimes when we don't want to!"