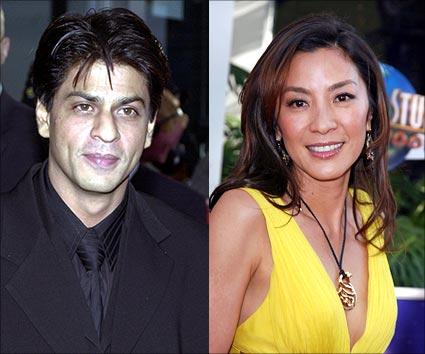 Actress Michelle Yoeh, best known for acting in multiple-Oscar winning film Crouching Tiger, Hidden Dragon and Bond film Die Another Day, loves to deliver punches on screen but her ultimate desire is to pair with India's romantic idol King Khan.
Yoeh, whose science-thriller Babylon A D released in Indian theatres recently is also hoping that the film would be liked in India.
"I know Shah Rukh Khan is quite famous in India and I would love to star opposite him. But unfortunately no calls yet. But, yes I wish I could get to work with him as a lead actress, be it a Hollywood or Indian film," says Yoeh.
This Asian actress is a Bollywood fan too. "I am an Asian and I like Indian films a lot. Have seen a couple of them in subtitles," Yoeh told PTI in an email interview.
Michelle Yoeh stars opposite Vin Diesel in Babylon A D, which is set against the backdrop of not-too-distant future where much of the planet is in a war zone left by nuclear meltdowns. 
The actress says she enjoyed playing the role of a fighter nun as she got the chance of doing what she loves best--kicking and punching. "In one scene where I had to kick someone and by mistake I hurt him. I felt embarrassed as his nose just couldn't stop bleeding but somehow Vin controlled the situation," says Yoeh recalling the incident.
"Since the incident the talk on the sets was about this Asian girl who kicks too hard and warned each other to either better stay away while stunts or take maximum precautions," says an amused Yoeh.
Yoeh admits that she takes special pride in her capability to do dangerous stunts. "For me stunts are the greatest challenge. I love what I do. I love the physical aspect of it. I do take a lot of pride, and I do respect the people that I work with, particularly the stunt people."
The actress is not ready to reveal much about her future plans though. "There are 4-5 untitled projects in queue. Well 2009 might see a couple of biggies. I am keeping my fingers crossed. But I am very much concerned about Babylon A D's" success in India," she says.