'The Maoists want the tribals to boycott the election while the police think the election is a farce and don't want to risk going deeper in the conflict zone.'
'Newton (played with sincerity and deep felt passion by Rajkummar Rao) wants to make sure that the locals cast their vote, a right given to them by the Constitution.'
Aseem Chhabra reports from the Berlin film festival for Rediff.com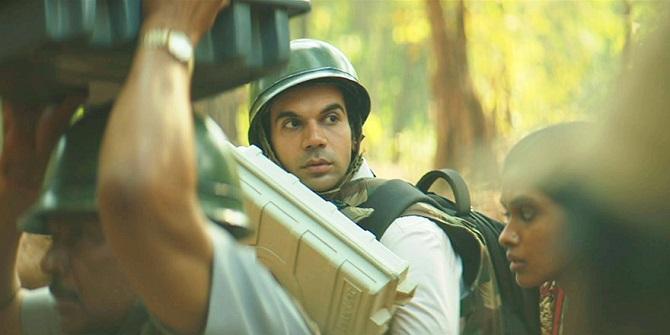 IMAGE: Rajkummar Rao and Anjali Patil in Amit Masurkar's Newton: 'A very important film that should make viewers think about how important their right to cast a vote is.'
It is February and cold in Europe, which also makes it the best time to spend in the dark movie theatres in Berlin and appreciate new films that will make noise through this year.
This year's Berlinale has a strong offering of films from around the world and even an impressive small sampling of Indian films.
The new Indian indie film Newton is (Sulemani Keeda) director Amit Masurkar's homage to India's democracy or rather it is a tribute to the fact that 70 years after Independence the citizens of India still go to cast their vote to select their representatives in local state assemblies and in Parliament.
Well almost! Because as Masurkar explained at the world premiere of Newton at the Berlinale on Friday evening, India's Constitution and especially its Preamble is a great document. But there is a gap between the virtues of the Constitution and the reality of India.
And Newton, a smartly written, tight. film explores that gap.
The film focuses on an young election officer Newton Kumar (he changed his original name from Nutan to Newton because kids would taunt him in school) who heads to oversee the voting in a remote part of Chhattisgarh, where Maoists and police forces compete for the attention of the local people.
The Maoists want the tribals to boycott the election while the police think the election is a farce and do not want to risk going deeper in the conflict zone.
But Newton (played with such sincerity and deep felt passion by Rajkummar Rao) wants to make sure that the locals cast their vote, a right given to them by the Constitution.
Newton is a man of deep conviction, full of idealism, hope for his nation and dedication to his job.
Newton is a very important film, despite its satirical tones, laced with a lot of humour and irony.
It is a film that should make viewers think about how important their right to cast a vote is.
Reports always indicate that voter turnouts tend to be low in major metropolitan areas in India. But if Rao's Newton was heading India's election commission, he would want to change that.
In addition to Rao, who has slowly become the star of India's indie cinema (this year he will be seen in three indie films -- Newton, Trapped and Omerta), Newton's terrific cast also includes Pankaj Tripathi as the small town police officer Atma Singh who becomes Newton's nemesis while also cooperating with him; Anjali Patil as Malko, a local tribal woman who steps in to work with the election team; and Raghubir Yadav as Loknath, a jaded older gentleman, but a junior colleague of Newton.
Masurkar's Newton is one of the two major Indian films playing at the Berlinale this year.
The other is Gurinder Chadha's Viceroy's House, which technically is a British production.
Chadha has long dreamed of making a Partition film. Viceroy's House is a culmination of seven years of work, which included researching, and working on the script she co-wrote with her husband Paul Mayeda Berges.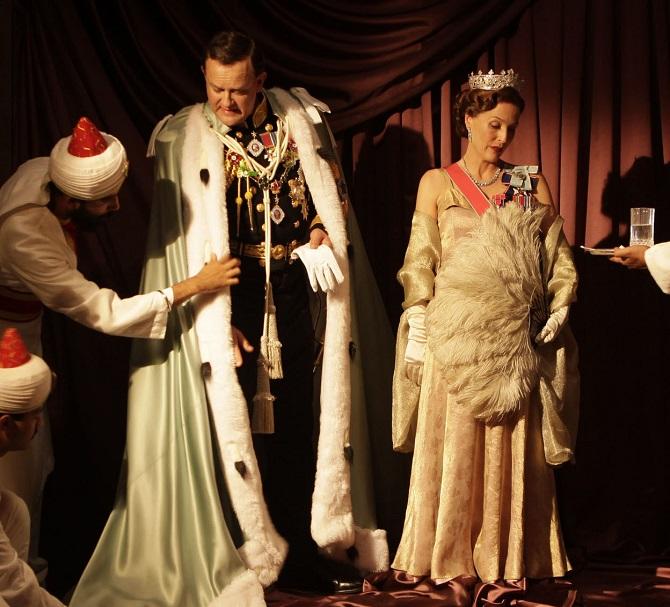 IMAGE: Hugh Bonneville and Gillian Anderson as Louis and Edwina Mountbatten in Gurinder Chadha's Partition drama, Viceroy's House.
Starting with Lord Mountbatten's arrival as the British colony's last viceroy, the film quite ably tracks the politics of the times -- the Indian and British perspectives and the rush to partition India, to create the new nation of Pakistan.
There are moments of gossip, some fun to watch, heated political discussions and disturbing scenes of communal riots before and immediately after Partition.
Speaking at the press conference on Sunday afternoon, Chadha stressed that she and Berges were very careful to make a film that would appeal both to people in India and Pakistan.
"It is important to note that this is a film made by a British Punjabi," she said. "I don't think the same film could have been made by an Indian from India or a Pakistani from Pakistan. It has a unique historical and social point of view of someone who grew up in Great Britain with a British sensibility, but with a beating Punjabi heart whose ancestral home is in pre-Partition India, which is now Pakistan."
"A lot of the films I see from India about Partition demonise Pakistan," she added. "It as important for me that I should be able to sit and watch this film with the audience in Delhi and Lahore."
With a lovely upstairs-downstairs feel of the viceroy's home in Delhi -- the film looks equally at the bedrooms and the boardrooms on the main floor of the grand building, while also at the kitchen staff -- Hindus and Muslims, who are getting anxious about the impending creation of Pakistan.
Viceroy's House stars Hugh Bonneville -- Downton Abbey's Lord Grantham -- as Mountbatten and with a wonderful strong performance by Gillian Anderson as his wife Edwina.
The Indian cast includes the luminous Huma Qureshi and Manish Dayal. And in one of his last screen performances Om Puri plays Qureshi's father.
IMAGE: Amar Kaushik's Aaba is a sensitive human drama set in Arunachal Pradesh.
Another highlight from India this year is a lovely short film -- Aaba, the story of a little orphan girl in Arunachal Pradesh who is being raised by her aged grandparents.
Filmmaker Amar Kaushik, who has worked as an assistant director with Raj Kumar Gupta and Onir, spent his childhood in Arunachal Pradesh.
His understanding of the state, its people and the pace of life is beautifully captured in Aaba.
MUST READ features in the RELATED LINKS below.