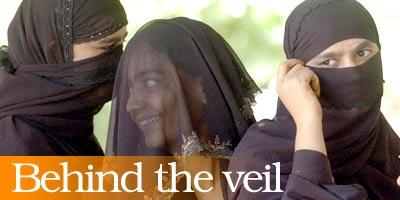 The number of veiled women in Kerala is on the rise.
Some years back, a purdah-clad woman was a rarity in the state.
Today, exclusive shops selling veils have sprung up everywhere.
"There is no aversion to the purdah these days among the new generation of Muslim women in Kerala," says Fatima Usman, who owns a garment shop in Kochi. "In fact, many of them love the dress."
A nice-girls-wear-purdah attitude has crept into Muslim society, she says. "It looks as if the purdah is turning out to be a symbol of modernity and prosperity, not of conservatism."
The large number of Malayali Muslims who work in West Asia, especially Saudi Arabia, has contributed to this culture, according to Islamic leaders and scholars.
Malayalis comprise the largest chunk of Indians working in West Asia, according to a study by the Thiruvananthapuram-based Centre for Development Studies. Most of those 1.6 million Malayalis are Muslims. The study found that in a district like Malappuram, 49.2 persons per 100 households work in West Asia.
Usman said many rich Muslim women in Kerala are embracing the purdah.
According to a recent survey by the New Delhi-based National Council for Applied Economic Research, Kerala's Muslim households, with an average earning of Rs 29,991 per annum, are better off than Hindu households (Rs 26,344).
The Muslims of Kerala are India's most educated Muslims with a literacy rate of 89.4 percent and female literacy at 85.4 percent.
"Many of our women have been to the Gulf countries and have seen both rich and poor women wear the purdah," says  Mohammed Hanifa, a businessman who settled down in Kochi after working for 15 years in Saudi Arabia.
Hanifa feels a purdah-clad woman nowadays makes a style statement. "For many of our young girls, wearing purdah is part of fashion and modernity."
Fatima Nazir, a 20-year-old home science graduate, agrees. "I wear purdah to college some days. I love it."
Students like Fatima point to another reason for the trend: writer/poetess Madhavikutty alias Kamala Das's conversion to Islam.
More than four years ago, the well-known English poetess and Malayalam short story writer embraced Islam and acquired the name Kamala Surayya.
Since then, she has been mostly seen in public in purdah, though she keeps her face unveiled. She has in fact said that life in purdah is 'supreme bliss.'
Her name has become very popular among Kerala's Muslims. Textile shops called Surayya House, Surayya Purdah Palace, Surayya Purdah Paradise have sprung up across the state.
Clad in black purdah and her hands adorned with colourful bangles, Kamala Surayya, which in Arabic means a blue star without blemish, converses fluently in Arabic nowadays.
The poetess says she is happy that more women in Kerala are wearing purdah. "Many Muslim women have come to me asking my opinion whether they should wear purdah," she says. "I have always encouraged it."
Surayya feels if she has provoked the purdah boom in Kerala, "it is a matter of great joy and satisfaction for me."
"The purdah is a great dress. I love it. It gives women protection and an identity. It always gives a woman immunity from ogling by men," says the writer who won the Asian Poetry Prize in 1964 for her anthology, The Sirens.
"I always appreciated the dignity and comfort of purdah. It is nice to learn that many young Muslim women in Kerala have changed their attitudes towards purdah."
Retailers have not hesitated to cash in on her name. One such retailer is Mohammed Abdullah, who owns a shop in Kozhikode that sells 'Surayya' purdahs. He has also put up huge posters showing women in purdah driving cars and operating computers in West Asia.
"Our marketing strategy has paid off well," he says. "I now sell at least 200 purdahs every month." Earlier, the figure was just 50.
Photograph: Prakash Singh/AFP/Getty Images | Image: Rahil Shaikh