Bibek Biman Maitra, Bharatiya Janata Party leader Pramod Mahajan's secretary, is dead.
Maitra won Mahajan -- who was shot by his brother on April 22 and died in hospital on May 3 -- over with his tremendous capacity to keep secrets without looking secretive, and his wit. In his small way he looked at the world of politics defiantly and differently.
His known weakness was for good food, which made him overweight and diabetic.
He loved taking his young friends to the Zodiac Grill, the expensive restaurant at the Taj Mahal hotel in Mumbai.
It is a matter of time when any other unknown weaknesses emerge as the New Delhi police investigates his untimely death on Thursday night.
No one has evidence, but everyone unquestioningly believes Maitra knew all of Pramod Mahajan's secrets, particularly his financial dealings and relationships. That was the way he flourished in Mahajan's inner circle.
Maitra wanted everyone to pronouce his name as Bibek, but journalists never learnt and stuck to Vivek.
His e-mail was bibek.maitra@gmail.com, which will be defunct from today.
Three years ago, he wanted to write a column for rediff.com on how to empower Indian youth. When Mahajan lost his ministership a few years ago, Maitra took to running an amateur magazine for youngsters.
Bibek Maitra always asked his friends to forward him e-mails on terrorism, China, the Indo-US nuclear issue etc.
He always delighted reporters with jokes about Gujarat Chief Minister Narendra Modi.
His wit apart, he was quite brash and ruthless when he commented on Mahajan's critics in politics. In off the record conversations he was brutally frank and showed the kind of courage which must have endeared him to Pramod Mahajan.
When the BJP debated a successor for L K Advani, he would brief reporters that the BJP had no alternative but Mahajan once the Atal Bihari Vajapayee-Advani duo faded away from politics. The Mahajan camp believed current BJP president Rajnath Singh was an interim arrangement sponsored by Mahajan himself.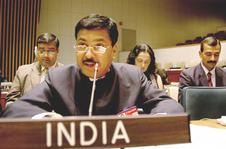 Maitra (behind, left, Mahajan at the United Nations) had a detailed defence for every allegation hurled at Mahajan. He was disliked by most of Mahajan's other aides because he had his leader's complete trust.
According to the Mumbai police, after firing three bullets into Pramod Mahajan, his brother Pravin complained that one of the reasons behind his deed was that while all Pramod's men got money, he didn't get much. Pravin Mahajan is alleged to have pointed to Maitra's penthouse in the upmarket Breach Candy area.
Maitra claimed he was a journalist before he joined the BJP. Till 1995 he was assisting Mahajan's brother-in-law Gopinath Munde, who heads the BJP legislature party in Maharashtra. Mahajan took him to New Delhi when the BJP to came to power in 1998.
Although media reports say he was not married, Maitra cast a firm veil of secrecy over his life.
On election campaigns, he was right behind his boss, extending a napkin if Mahajan sweated, and be seen running behind him with a water bottle.
He would do anything for Pramod Mahajan and had no qualms if he was bracketed with only him and not the party.
The New Delhi police has released three telephone numbers from where Moitra received calls just before his death on his mobile phone (9811068282).
If the forensic report establishes that Maitra's death was not because of food poisoning or because of a lethal combination of champagne and cocaine as is currently suspected, then the most important question to ask, and answer, would be, would someone try to eliminate him along with Rahul Mahajan?
Like his boss, Bibek Maitra too has left behind mysteries difficult to solve.