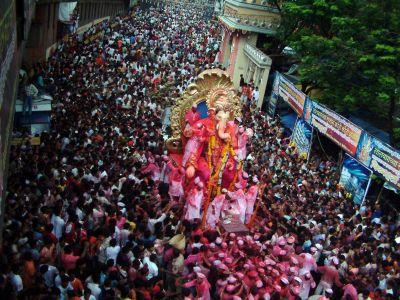 Lalbaug cha raja, the Ganesha at one of Mumbai's five biggest mandals, sets out for immersion on Wednesday.
The pandal, which is known for its elaborate arrangements and beautiful Ganeshas, even has its own web site.
All over Mumbai, on the final day of Ganeshotsav, Ganpatis will be taken for visarjan (immersion), amid much celebration. Security arrangements have been tightened across the city.
Photograph: Arun Patil
Also read:
The Ganeshas of Mumbai
The Rs 5 crore Ganpati
Coverage: Ganeshotsav