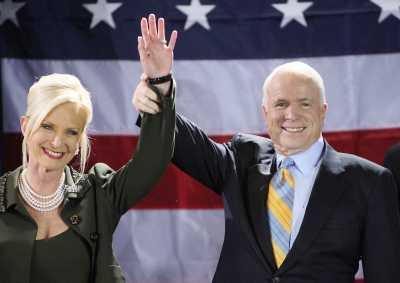 Senator John McCain has won the Florida Republican primary, relegating former Massachusetts Governor Mitt Romney to second place.
McCain's victory is crucial as it comes just a week before Super Duper Tuesday on February 5, when caucuses will be held in several states across the United States, including California, New York and New  Jersey.
The victory further established Arizona senator McCain as the front runner in the Republican presidential race. McCain's campaign got a further boost when fellow Republican candidate and former New York Mayor Rudy Giuliani announced that he is withdrawing from the presidential race and will endorse McCain's candidature.
McCain thanked his supporters and said that he intended to win the national primary.
Democratic hopeful Hillary Clinton won the Florida Democratic presidential primary, a symbolic victory which gave a psychological boost to her campaign before Super Tuesday.
Clinton scored a comfortable victory over rival Senator Barack Obama by receiving 48 per cent of the vote with 19 per cent of the vote counted. CNN projected Clinton as the winner.
Obama received 30 per cent of the vote, while former Senator John Edwards clinched the third position with 14 per cent of the votes.
But Clinton's win will not give her any of the crucial delegates she will need to secure the party's nomination to stand in the November presidential elections, as the Democratic National Committee penalised Florida and Michigan for moving up their primaries and in the process denied delegates.
Image: Republican presidential hopeful John McCain and his wife Cindy celebrate after the victory in the Florida Republican Presidential Primary in Miami.
Photograph: Don Emmert/AFP/Getty Images