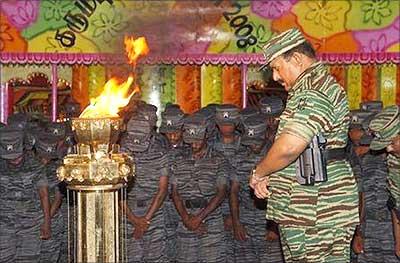 Image: Elusive LTTE leader Prabhakaran emerged from the jungle hide-out to pay homage to 365 members of the outfit's suicide squad who had been killed since 1987. The venue is unknown.
The LTTE may be losing its cadres every day, but, it seems, it is Prabhakaran's leadership that keeps the fire on. But the Lankan Army claims Prabhakaran is either dead or immobilized by its attack.
Photograph: PTI
ALSO READ: What game is he playing now?