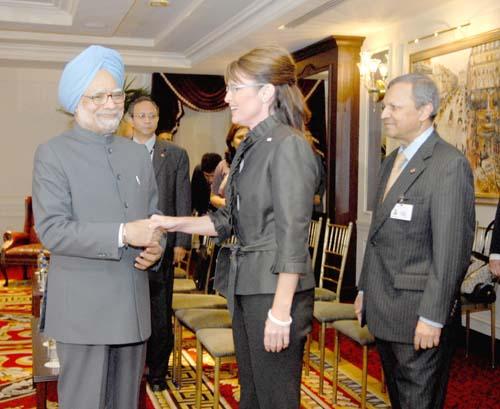 Republican Vice Presidential candidate and Alaska Governor Sarah Palin met Prime Minister Manmohan Singh in New York on Wednesday.
No details of the meeting, which lasted for half an hour, were released but Palin had been discussing international issues with world leaders who are here to attend the United Nations General Assembly session.
Originally, Republican Presidential candidate John McCain was slated to accompany her but sources said he was held up in Washington, where the Bush administration is trying to get a package to re-energise flagging markets through the Congress.
Earlier, Palin met Pakistan President Asif Ali Zardari and leaders from Georgia, Ukraine and Iraq.
She began meeting world leaders on Tuesday and was warmly received. In reply to a question, she said these meetings are very informative.
Receiving Palin, the Pakistan President remarked, "You look so gorgeous. Now I know why the whole America is crazy about it."
The conversation was caught on the tape and telecast.
"You are so nice," Palin said.
An aide of Zardari then told them to keep shaking hands for the cameras.
"I'm supposed to pose again," Palin said
"If he's insisting, I might hug," Zardari replied. Palin smiled politely in response.
Image: Prime Minister Manmohan Singh with Alaska Governor Sarah Palin in New York on Wednesday
Photograph: Paresh Gandhi