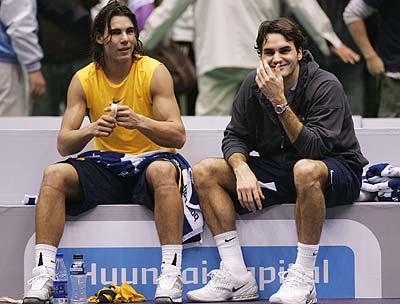 World number one Roger Federer overcame nemesis Rafael Nadal for the second time in less than a week with a masterful display in a 6-3, 3-6, 6-3 exhibition match victory in South Korea on Tuesday.
The Swiss asserted his dominance of men's tennis by beating world number two Nadal 6-4 7-5 in Shanghai on Saturday to reach the final of the Masters Cup, getting past the man responsible for four of his five defeats in 2006.
Playing for pride and a plentiful purse kept secret by the sponsors, the boisterous crowd in Seoul enjoyed a match where the pair traded blazing groundstrokes and serves across the net with precision.
Federer began the first set by winning nine straight points on his serve and breaking his Spanish opponent to stake himself an early 4-1 lead. He ended as he started with a love game off on his serve to take the set 6-3.
Nadal took advantage of a rare lapse on Federer's part to break him in the eighth game to take the second set.
The middle set had its moments of theatrics, including Federer taking a break to watch a big screen replay of a point won masterfully by Nadal by flying through the air to smash volleys at the net.
The two were all business in the third, holding serve for the first seven games.
In the eighth, however, Federer broke his opponent thanks to a pair of unforced errors and a double fault before he ended the match emphatically with an ace.