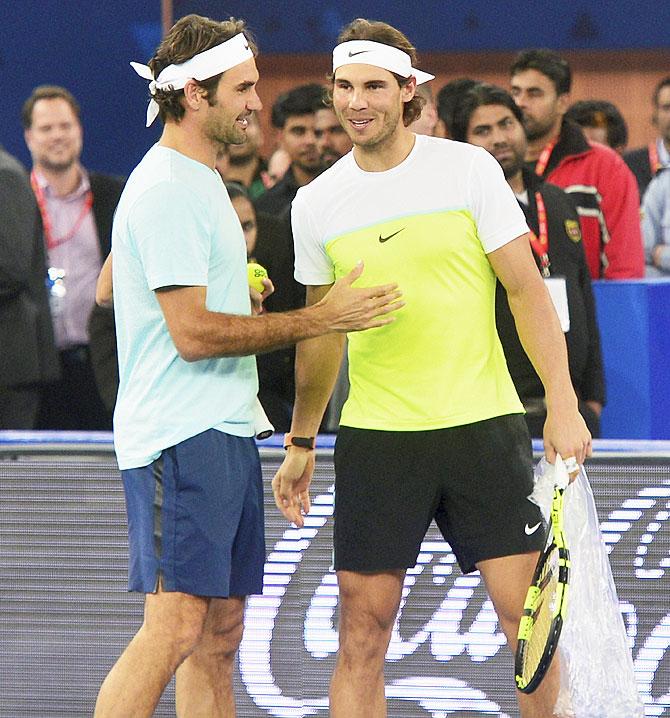 IMAGE: Indian Aces' Rafael Nadal, right, and Roger Federer of UAE Royals greet each other before their IPTL set in New Delhi in December 2015. Photograph: PTI
Only one of world tennis' Big Four -- Roger Federer, Novak Djokovic, Andy Murray and Rafael Nadal -- will feature in the upcoming season of the Indian Premier Tennis League, which has shifted base to Hyderabad, even as its founder Mahesh Bhupathi asserted that there are no payment issues around the league.

IPTL, a concept launched by India's first Grand Slam winner Mahesh Bhupathi, featured a marquee clash between Indian Aces' Nadal and UAE Royals' Federer last year in Delhi.

In the absence of star players, such a clash will be missed this year as world number 28 Feliciano Lopez from Spain is so far the highest-ranked singles male player in the Indian team. The third season of the league will be played from December 2 to 11.

But it has to be noted that both Nadal and Federer have faced injury issues this season and cut short their respective 2016 season. Federer has not played since Wimbledon and Nadal wrapped up his season in October. Djokovic had featured in the inaugural season for Dubai but had missed the 2015 edition.

"One of the Big Four is definitely coming. We did not want to reveal all our cards today. We will announce the name in the next 48 hours," Bhupathi said on Thursday, confirming that a few big names will be missed.

There are murmurs that payment issues are plaguing the league but Bhupathi asserted that there is no truth in it.

"All the players we had last year are back. We had a long list of players who wanted to come but unfortunately could not come because there were no spots. Everything is good," Bhupathi said.

"That's why they say don't believe in everything you read," he added further.

The Indian team has shifted base to Hyderabad and Bhupathi said it is done to take the league to other parts of the country.

"There is no particular reason, we did it there (Delhi) for two years, the fans enjoyed world class tennis. The concept was built about having one team for country. Last year, we did it in Kobe (in Japan), this year we are doing it in Tokyo. The owners wanted an opportunity to move to a different city, to see if they get good buzz," Bhuapthi said.

Asked if it's a one-off season for Hyderabad, Bhupathi said, "It's team owners' decision. We will see if it's a sold out crowd, there are a lot of factors, we will see."

Phillipines Mavericks are also not featuring in the 2016 season.

"The owners still own the team but there was some political instability there, there were worries about players travelling there," Bhupathi clarified on absence of Mavericks.

India's veteran star Leander Paes, who played for Japan Warriors last year, will also not be a part of the league this season.

"The number of players changed since one team sat out," Bhupathi said.

Multiple Grand Slam winner Serena Williams is the biggest name revealed so far among the women. World number five Kei Nishikori is the highest-ranked male player confirmed so far.
© Copyright 2021 PTI. All rights reserved. Republication or redistribution of PTI content, including by framing or similar means, is expressly prohibited without the prior written consent.